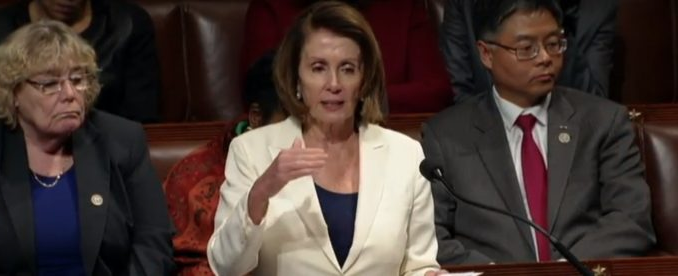 So she can do a seven hour filibuster in support of Illegal Aliens, but can't be bothered to stand in support of American citizens that have lost family members to gang violence committed by illegal aliens during the SOTU…have the Americans that support this batshit crazy loon lost their minds??
Democratic House Minority Leader Nancy Pelosi called for an undocumented DACA beneficiary to run for president of the United States during her hours-long House floor speech Wednesday.
Pelosi recited the life stories of numerous DREAMers, and as she kicked off her seventh hour on the floor she suffered a revealing unscripted moment.
"You go girl," Pelosi said to one DREAMer's desire to run for the U.S. Senate someday.
"United States Senate. Why not president of the United States? Well, she wasn't born here. She can't be president of the United States. Well, so far."
The natural-born citizens clause of the Constitution requires presidents to be born in the United States, stating: "No Person except a natural born Citizen, or a Citizen of the United States, at the time of the Adoption of this Constitution, shall be eligible to the Office of President; neither shall any Person be eligible to that Office who shall not have attained to the Age of thirty-five Years, and been fourteen Years a Resident …"
Source: Big League Politics