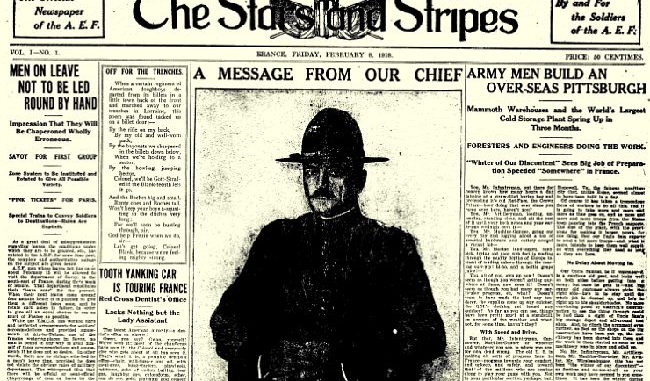 On this day, February 8th in 1918, the United States Army resumes publication of the military newsletter Stars and Stripes.
Begun as a newsletter for Union soldiers during the American Civil War, Stars and Stripes was published weekly during World War I from February 8, 1918, until June 13, 1919. The newspaper was distributed to American soldiers dispersed across the Western Front to keep them unified and informed about the overall war effort and America's part in it, as well as supply them with news from the home front.
The front page of the newspaper's first World War I issue featured A Message from Our Chief, a short valedictory from General John J. Pershing, commander in chief of the American Expeditionary Force (AEF): The paper, written by the men in the service, should speak the thoughts of the new American army and the American people from whom the army has been drawn. It is your paper. Good luck to it.
The World War I-era Stars and Stripes was largely the creation of Second Lieutenant Guy T. Viskniskki, an AEF press officer and former censor at the American Field Test Headquarters in Neufchateau, France. Featuring news articles, sports news, poetry, letters to the editor and cartoons, among other content, the eight-page weekly publication was printed on presses that had been borrowed from Paris newspapers. Viskniskki's staff was made up mostly of enlisted men and featured prominent journalists like Harold Ross, future co-founder of The New Yorker magazine, Alexander Woollcott, a former drama critic for The New York Times, and Grantland Rice, who went onto become known as the dean of American sports writers. At its peak during the war, Stars and Stripes reached a circulation of 526,000.
Stars and Stripes resumed publication during World War II, during which circulation reached 1,000,000. Serving as a daily hometown newspaper for service members, government civilians and their families stationed around the world, it has been in continuous publication in Europe since 1942 and in the Pacific since 1945. In these two regions, Stars and Stripes reaches 80,000 and 60,000 readers respectively. It also publishes a Middle East edition as well as an electronic edition on the Internet.