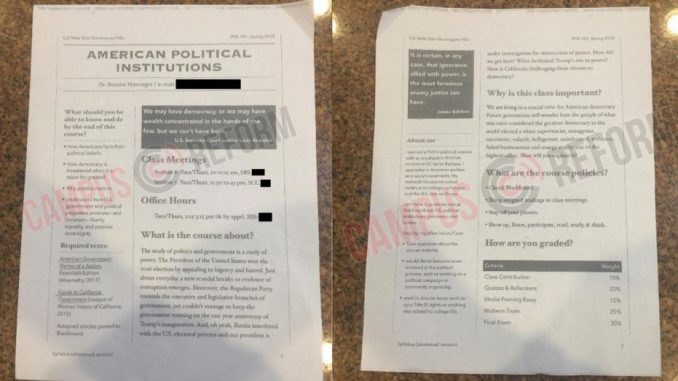 A California political science professor reportedly called President Trump a "white supremacist" and an "orange reality star" in a syllabus for her class, and at one point asked how students "will explain" the current political era.
Dr. Brooke Mascagni, who teaches "American Political Institutions" at California State University-Dominguez Hills, rails against Trump in the "shortened version" syllabus, according to Campus Reform.
"Future generations will wonder how the greatest democracy in the world elected a white supremacist, misogynist, narcissistic, volatile, belligerent, uninformed, stubborn, failed businessman and orange reality star to the highest office," Mascagni wrote under a section titled "Why is this class important?"
She continues by asking "How will you explain it?"
The course description does not read like a standard political science course.
"The President of the United States won the 2016 election by appealing to bigotry and hatred," wrote Mascagni. "Just about everyday, a new scandal breaks or evidence of corruption emerges. Moreover, the Republican Party controls the executive and legislative branches of government, yet couldn't manage to keep the government running on the one year anniversary of Trump's inauguration."
The political science professor continued: "And, oh yeah, Russia interfered with the U.S. electoral process and our president is under investigation for obstruction of justice."
"How did we get here? What facilitated Trump's rise to power? How is California challenging these threats to democracy?"
Mascagni writes that students, by the end of the class, will know "how Americans form their political beliefs," "how democracy is threatened when it is taken for granted," why politics matters" and be able to "understand how U.S. government and political processes promote – and constrain – liberty, equality, and popular sovereignty."
A student in Mascagni's class told Campus Reform about the "unbelievable blatant" liberal bias in the syllabus, adding that while the student has had liberal professors before, this class represented the most extreme case.
The document "was designed to provoke thought and classroom participation and was not meant to discourage any particular beliefs," the university told Fox News. "This university respects the right to academic freedom, critical analysis and research, and healthy debate on all sides of a subject."
On her website, Mascagni boasts of teaching and researching "The American Presidency and Congress" and "U.S. Politics and Government." She also teaches feminist studies and social movements, as well as researching Title IX and campus violence.
CSUDH touts their "academic excellence" on their website along with "well-balanced curriculum that build well-rounded knowledge."
Mascagni did not return Fox News' request for comment.
Source: Fox News