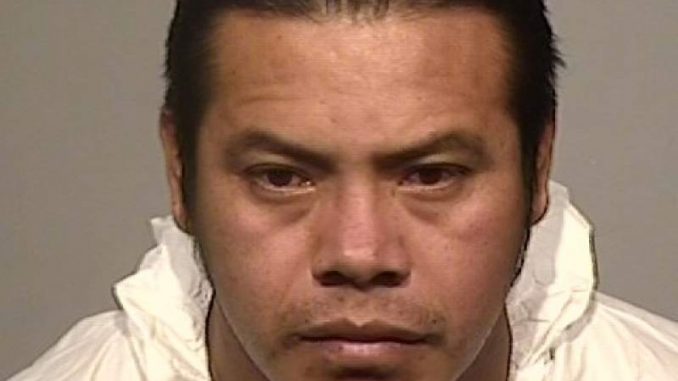 (Santa Rosa) An Illegal Guatemalan man who was thrust into the national immigration debate when he was charged with killing his Santa Rosa girlfriend after avoiding deportation can be tried on murder charges, a judge ruled Wednesday.
Police investigators testified Nery Israel Estrada-Margos, 38, smothered or strangled Veronica Cabrera Ramirez, 43, in their Russell Avenue apartment Aug. 18. The mother of two teenage daughters was also bludgeoned with an iron dumbbell, witnesses said at a preliminary hearing.
The slaying happened about two weeks after Estrada-Margos was arrested on charges of punching Cabrera Ramirez in the face inside the apartment they shared. He was released on bail the next day despite a request by U.S. Immigration and Customs Enforcement officials to hold him.
Homan suggested the woman's killing could have been avoided.
"Sonoma County didn't honor the detainer. What happened? Two weeks later he killed that girl, now she has two young daughters without a mother," Homan said.
Like other counties around the state, Sonoma County has adopted a policy limiting cooperating with federal immigration officials. However, jail officials notified ICE about 45 minutes before Estrada-Margos was released, Sgt. Spencer Crum said. Federal agents did not arrive in time to pick him up, Crum said.
The flap came after Homan this fall accused Sheriff Rob Giordano of freeing an Illegal immigrant whom he said went on to set one of the October wildfires. The claim was unfounded. Giordano fired back, calling Homan's comments "misleading and inflammatory."
Estrada-Margos, who had no previous record, has pleaded not guilty. He had been living in the United States at least five years and worked in a Petaluma restaurant and at a Rohnert Park car wash. He had been dating Cabrera Ramirez for about nine months and believed she was cheating on him, a defense attorney suggested.
He turned himself in to police the morning of the slaying and admitted hitting Cabrera Ramirez on the head with a dumbbell, Detective Vaughn Andrews testified.
Her body was later found in the master bedroom, covered by a blanket or towel. An autopsy concluded she died of "homicidal asphyxiation," citing injuries on her nose, mouth and neck. It was unclear if she was smothered or strangled, Andrews said.
Another police witness, Officer Brooke Clark, said a neighbor was awakened at 5:40 a.m. by the sound of a woman screaming and a "thump" on the adjoining wall.
The woman's daughters were not at home at the time. They had moved in with a godmother after the earlier domestic assault.
Estrada-Margos, clad in a blue jail uniform, sat with his back to the audience during the hearing. Judge Shelly Averill ruled he could be tried on murder and other charges. She scheduled his next court date for Feb. 7.
Source: The Press Democrat