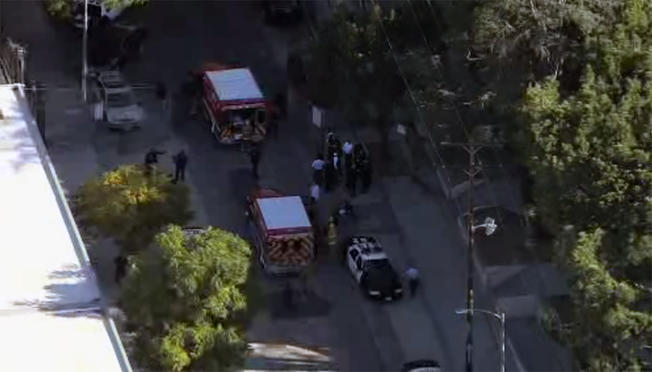 A shooter opened fire inside a classroom at a middle school northwest of downtown Los Angeles, wounding two 15-year-old students
One person is in custody after two students were shot Thursday morning in a classroom at a middle school in the Westlake District of Los Angeles.
Police responded to the report at the campus of Belmont High School and Sal Castro Middle School, located northwest of downtown Los Angeles. The gunfire occurred inside a middle school classroom, police said.
"It was a very traumatic experience for students inside that classroom," said Steve Zipperman, chief of LA School Police.
The victims, a boy and girl, are both 15 years old, police said. The boy was in critical condition with a gunshot wound to the head, fire officials said. The girl was in fair condition with a gunshot would to the wrist, according to the fire department.
Aerial video showed officers escorting a girl in handcuffs from the campus, but authorities did not immediately confirm she was the shooting suspect. Authorities also recovered the weapon used in the shooting.
"There is no more safety threat," said Zipperman.
Three other individuals suffered non-gunshot injuries, such as minor scrapes.
Several students were taken out of classrooms and searched by police during the campus lockdown.
Source: NBC Los Angeles