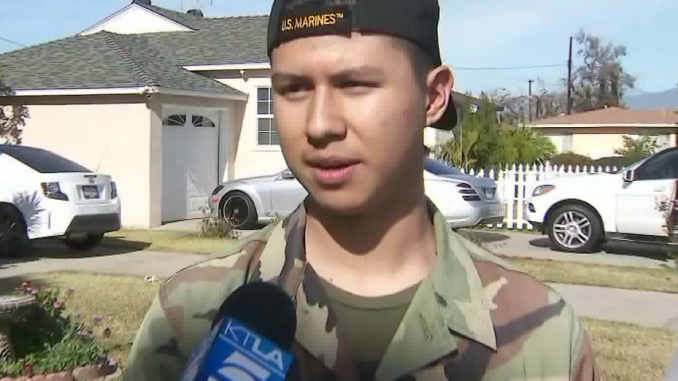 After his secretly recorded videos of his teacher's derogatory comments about members of the U.S. military went viral, a Pico Rivera student who hopes to join the Marines is staying out of school over concerns about his own safety.
Victor Quinonez, a senior at El Rancho High School, recorded video of his U.S. government teacher Gregory Salcido ranting about the military and insulting service members' intelligence. The diatribe was apparently prompted in part by Quinonez' wearing a U.S. Marines sweatshirt.
"You better not freaking go," Salcido says in one of the videos. "Don't wear that in here."
A Connecticut woman who is a friend of the family posted the videos on Facebook on Jan. 26, and one of them has been viewed more than 6 million times as of Monday afternoon. The friend, Kimberlie Flauto, made the videos public and asked for help making them go "viral."
On Monday, Victor Quinonez told KTLA he recorded the videos because he was tired of hearing disparaging remarks about the military from the teacher. The eldest of five siblings, Quinonez is now worried about how his sophomore brother will be treated at school.
"I'm worried about the safety of my brothers right now, I'm not so worried about myself," Victor Quinonez said. "My brother had nothing to do with this. I don't understand why students have to go bringing my brother into this and bringing my other family members in to this."
Standing alongside his 17-year-old son Monday, Quinonez' father Vincent expressed ire about the classroom comments made by Salcido, who is also a Pico Rivera city councilman.
"It's not … about freedom of speech. That's fine, he can say what he wants, but to say it to the youth is wrong. To bully my son is wrong, to discriminate against people who want to be in the military is wrong," said Vincent Quinonez.
Vincent is a 39-year-old Marine veteran who served in Afghanistan, and two other family members have served in the military as well, relatives said.
Quinonez' mother, Karen Rodriguez, told KTLA she was keeping her son home from school Monday because he has received threats since the video was posted. She said Salcido made her son stand in front of the class to justify why he wants to become a Marine after graduating this year.
Rodriguez thinks Salcido should no longer be allowed to teach.
"I don't think that somebody with that mentality – and not being able to refrain themselves from the things that they express about – should be … in a school environment," Rodriguez said.
In the video, which Quinonez surreptitiously recorded while the camera was mostly pointed at his shirt, Salcido repeatedly called U.S. service members "dumbsh–s."
"Think about the people who you know who are over there – your freaking stupid Uncle Louie or whatever – they're dumbsh–s. They're not like high-level thinkers, they're not academic people, they're not intellectual people; they're the freaking lowest of our low. … They're not talented people."
He also used racist stereotypes of people in Vietnam and the Middle East, belittling the American military for failing to "beat" them.
"If you join the military, it's because you have no other options," Salcido said.
He also told students not to join the military.
Salcido was in New York City when the video was posted, the Los Angeles Times reported. He posted on his Facebook page: "I turned my phone back on to unexpectedly see a storm. I don't think it's wise for me to make any specific comments, but I want my friends, family, and students to know we are fine and we respect the rights of free expression for all individuals."
When contacted by the Times, he declined to comment about the video "because of the many vulgar and violent threats against my family ."
The school board said it is investigating, and Salcido's fellow City Council members have expressed dismay.
The council on Monday issued a statement, signed by the mayor and three other council members, saying they "unequivocally disagree" with Salcido's comments.
"The City Council and residents of Pico Rivera are steadfast in the recognition that the contributions by those who have served or are currently serving our country via military service are respected and we are grateful for their service," the statement read. "The City of Pico Rivera was founded upon the principles, values and sacrifices of many of our veterans who when called upon by our nation served with great pride and honor. Those men and women who have proudly served in our nation's armed forces have proven time and again that personal sacrifice in the face of injustice and tyranny can literally change the world for the better."
El Rancho Unified School District board President Aurora R. Villon told the Times that Salcido's comments did not reflect the city's values.
"It's so traditional and so rooted in strong family values," Villon said.
Salcido, 49, was placed on administrative leave in 2012 after a parent said he smacked her 15-year-old son on the back of the son while in class. Salcido told the San Gabriel Valley Tribune he did so not with intent to harm the boy but to wake him up.
And Salcido was suspended in summer 2010 after a parent alleged the teacher threatened his daughter during a summer school class and made inappropriate comments about race, the Tribune reported.
The  Quinonezes were expected to meet with school officials Monday in hope of ensuring the safety of Victor and his siblings.
Source: KTLA
[adrotate banner="24″]

Widget not in any sidebars