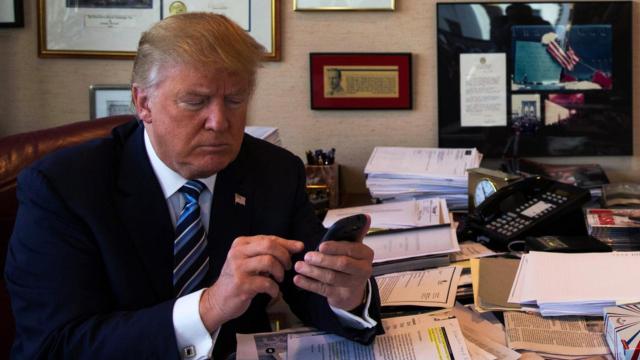 President Trump broke with top officials at the Justice Department and called for the release of a classified memo purported to list Foreign Intelligence Surveillance Act abuses by the U.S. government, The Washington Post reported Saturday.
Despite warnings from top officials at the agency, Trump reportedly told Attorney General Jeff Sessions through chief of staff John Kelly that he wants to see the memo released, believing that it will shed light on the special counsel investigation.
Trump "is inclined to have that released just because it will shed light," a senior administration official told the Post.
"Apparently all the rumors are that it will shed light, it will help the investigators come to a conclusion," the official added.
The decision to release the memo rests with the House Intelligence Committee, chaired by California Republican Rep. Devin Nunes. Earlier this week, the Justice Department warned the committee it would be "extraordinarily reckless" to release the memo without first supplying it to the agency for review.
"Indeed, we do not understand why the committee would possibly seek to disclose this information without first consulting the relevant members of the Intelligence Community," Assistant Attorney General Stephen Boyd wrote to the lawmakers on Thursday.
Republicans in Congress who have seen the memo say that the contents are "shocking," and voted this week to allow House members to view the memo in secure locations. The Senate Intelligence Committee, however, has been reportedly blocked from viewing it.
"I'm here to tell all of America tonight that I'm shocked to read exactly what has taken place," House Freedom Caucus Chairman Mark Meadows (R-N.C.) said in a speech on the House floor.
"I thought it could never happen in a country that loves freedom and democracy like this country. It is time that we become transparent with all of this, and I'm calling on our leadership to make this available so all Americans can judge for themselves," he said.
Source: The Hill
[adrotate banner="24″]

[pt_view id="517b65fj16″]