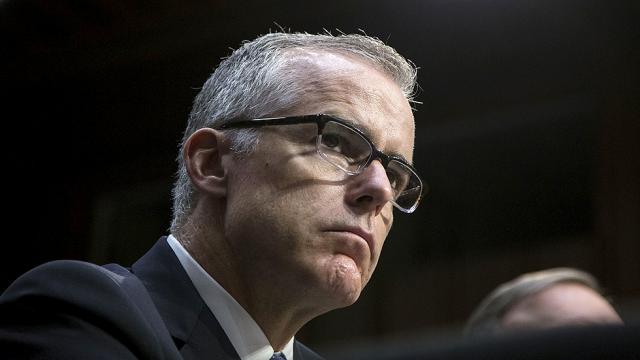 FBI Deputy Director Andrew McCabe, who was expected to retire in the coming months, is stepping down, according to multiple reports.
A career civil servant who was appointed deputy director in 2016, McCabe has been a frequent target of Republicans alleging systemic bias against President Trump at the top tiers of the bureau.
McCabe oversaw the controversial investigation into former Secretary of State Hillary Clinton's use of a private email server. The GOP has accused him of a conflict of interest in that case because his wife accepted nearly $500,000 in political donations from Clinton ally Terry McAuliffe in a state legislature bid that predated the investigation.
The Washington Post reported, in December, McCabe's intention to retire when he became eligible for pension benefits in early March. Trump, who has been among McCabe's fiercest critics, characterized the move as "racing the clock to retire with full benefits."
A spokesperson for the FBI did not immediately respond to a request for comment.
Trump, as early as July, had called for McCabe's ouster, demanding, "Why didn't A.G. Sessions replace Acting FBI Director Andrew McCabe, a Comey friend who was in charge of Clinton investigation?"
"How can FBI Deputy Director Andrew McCabe, the man in charge, along with leakin' James Comey, of the Phony Hillary Clinton investigation (including her 33,000 illegally deleted emails) be given $700,000 for wife's campaign by Clinton Puppets during investigation?" he tweeted in December.
As a civil servant, McCabe cannot be fired without clear evidence of wrongdoing.
According to documents released by the bureau in November, McCabe recused himself from state corruption cases in Virginia as a result of his wife's candidacy in 2015. However, he was not warned by bureau officials to step back from the Clinton investigation when it began a few months later.
Then the assistant director in charge of the Washington field office, McCabe "provided personnel resources" to the email investigation in its early stages but "was not told what the investigation was about" until he was appointed deputy director — months after the Virginia election had concluded.
McCabe briefly ran the bureau after Trump fired former Director James Comey, who was then succeeded by current director Christopher Wray.
McCabe has weathered one of the most controversial periods in the FBI's history, as Republicans have continued to argue that the bureau inappropriately tried to tip the scale in Clinton's favor in the 2016 presidential election.
He skyrocketed back into the public view after a series of texts from a former member of special counsel Robert Mueller's team added fuel to Republican claims of bias at the bureau.
The agent, Peter Strzok, disparaged political figures of both parties in the texts, including Trump, whom he called an "idiot." The agent was removed from Mueller's team earlier this year.
Republicans are also seeking to make public a controversial memo authored by House Intelligence Committee Chairman Devin Nunes (R-Calif.) alleging surveillance abuses at the Department of Justice. McCabe is reported to be mentioned by name in the document.
"Andrew McCabe cuts across every facet of every investigation in 2016 that your viewers are interested in from Secretary Clinton's emails to the investigation into the Trump campaign," Rep. Trey Gowdy (R-S.C.) told Fox News in December.
Source: The Hill
[adrotate banner="24″]

Widget not in any sidebars