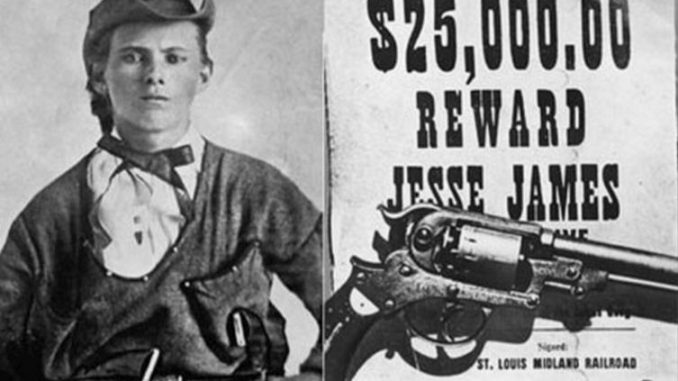 Mistakenly believing Frank and Jesse James are hiding out at their family home, a gang of men–likely led by Pinkerton detectives–mount a raid that leaves the outlaws' mother permanently maimed and their nine-year-old half-brother dead.The Chicago-based Pinkerton Detective Agency had been pursuing the James brothers and their gang since 1874, when several big railroad companies first hired the Pinkertons to stop the outlaws. Responsible for a string of bank and train robberies, the James brothers were already famous for their daring style, and some even viewed the men as modern-day Robin Hoods. The Pinkertons, though, had no such romantic illusions about the outlaws. One of their best operatives working on the case, John W. Witcher, had been found dead from a bullet wound to the stomach, with his head, shoulder, and face eaten away by wild hogs. The Pinkertons were convinced Jesse James and another gang member had murdered Witcher, and they were determined to stop the outlaws.
In late 1874, the Pinkertons learned that Jesse and Frank James periodically returned to their old family farm in Clay County, Missouri, to visit with their mother and other family. On the night of January 26, 1875, a gang of men surrounded the James farm in the mistaken belief that the James brothers were inside. In an attempt to flush the outlaws out of the house, the gang threw several flares through the windows. Unexpectedly, one of the flares exploded instantly, killing Frank and Jesse's young half-brother and blowing away their mother's arm. Though the identity of the gang members has never been determined with absolute certainty, contemporary admirers of the James Brothers and modern-day historians agree that the Pinkertons were probably responsible. Regardless, the incident gave credence to the popular view that the men were innocent victims of the powerful railroads that had hired the Pinkertons to wipe them out.
After the attack on the James farm, the Pinkertons appear to have backed off from their more aggressive tactics. One of his own gang members, not a Pinkerton operative, killed Jesse James for a bounty in 1882. Frank James surrendered shortly thereafter, but no jury would convict him, and he remained a free and law-abiding citizen until his death in 1915. The grave of Jesse, who was buried in the front yard of his mother's farm, became a popular tourist attraction. For many years, tourists could pay Mrs. James 25ÝF to visit the grave and listen to her tearful and melodramatic account of how venal Pinkertons and evil railroad barons had so unjustly persecuted her good and utterly innocent sons.
Source: History Channel
[adrotate banner="24″]

[pt_view id="517b65fj16″]