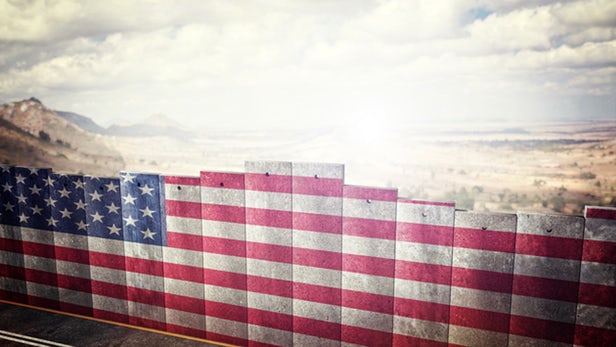 (Townhall) President Trump warned Senate Minority Leader Chuck Schumer Tuesday night that without a border wall there is no deal on the Deferred Action for Childhood Arrivals program.
"Cryin' Chuck Schumer fully understands, especially after his humiliating defeat, that if there is no Wall, there is no DACA," the president tweeted. "We must have safety and security, together with a strong Military, for our great people!"
https://twitter.com/realDonaldTrump/status/956015565776277510
Earlier Tuesday Schumer rescinded his offer to Trump for a border wall, taking $25 billion off the table for new border security measures in exchange for a compromise on DACA recipients.
"We're going to have to start on a new basis, and the wall offer's off the table," Schumer told reporters.
The Senate Minority Leader had made the concession to the president on Friday during a private meeting at the White House, but reneged Sunday, the Washington Post reports. Tuesday's announcement was public confirmation of that.
White House Press Secretary Sarah Huckabee Sanders said during Tuesday's press briefing the president does not accept the immigration proposal put forth by Republican Sens. Lindsey Graham (SC) and Jeff Flake (AZ), and Democratic Sen. Dick Durbin (IL).
"In a bipartisan meeting here at the White House two weeks ago we outlined a path forward on four issues: serious border security, an end to chain migration, the cancellation of the outdated and unsafe visa lottery and a permanent solution to DACA," Sanders said. "Unfortunately, the Flake-Graham-Durbin agreement does not meet these bench marks."