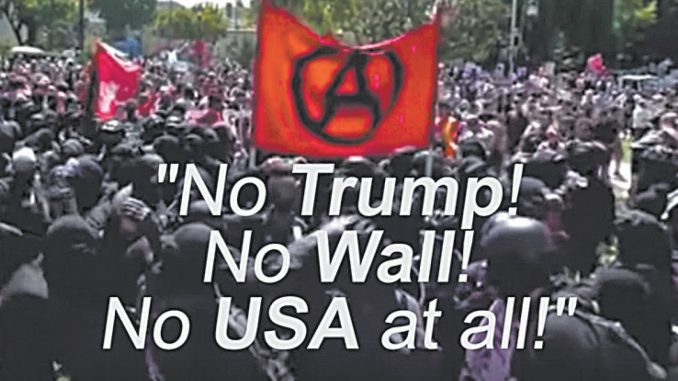 (Blue Lives Matter) An Antifa protester attacked a party-goer as he left an event, and then tried to choke a police officer.
New York, NY – An Antifa "protester" attacked a 56-year-old man and tried to put a police officer in a choke-hold in Hell's Kitchen on Saturday night.
About 80 protesters, many of them wearing hoods and masks, were gathered outside the FREQNYC nightclub where far-right Mike Cernovich was headlining "A Night For Freedom," waiting to harass the attendees when the event let out at about 10:30 p.m.
Police said that David Campbell, 30, followed a man as he left the club, and then without provocation, jumped him from behind, and beat him severely.
The New York Post reported that Campbell "allegedly jumped the Trump supporter once they were a block away, punching him and choking him so aggressively that he was not breathing and had a faint pulse."
"I saw him hit the old man," Ali Thomas told the New York Daily News. "One hit. He swung hard. He hit him hard. The old man's head hit the curb."
Fire officials said the 911 caller told them the 56 year old was in cardiac arrest after he was attacked.
The New York Post reported that first responders had to perform CPR, and the victim finally regained consciousness when he was in the ambulance. He was taken to Bellevue Hospital in stable condition.
Campbell fought with police when they arrested him.
Authorities said Campbell was carrying Mace and tried to put a New York police officer in a choke-hold, according to the New York Post.
Campbell was charged with strangulation, multiple counts of assault, resisting arrest, loitering, criminal possession of a weapon, and obstruction of government administration.
Police said he was also charged with attempted assault and attempted criminal obstruction of breathing for his attack on the officer.
The police officer was taken to Mount Sinai St. Luke's-Roosevelt Hospital Center and treated for his injuries.
Two other people were transported to the hospital following the melee, but it wasn't known if they were party-goers or Antifa.
Cernovich, top of the list of speakers at the gala, took to Twitter after he heard about the attack on the 56-year-old man.
https://twitter.com/Cernovich/status/955146663437455360
Chelsea Manning attended the right-wing event, claiming she "crashed" the party while drinking and having polite conversation with attendees.
Manning has drawn criticism from the left for partying with the far-right while Antifa was out in the cold choking a 56-year-old man and attacking police.
[adrotate banner="24″]

[pt_view id="517b65fj16″]