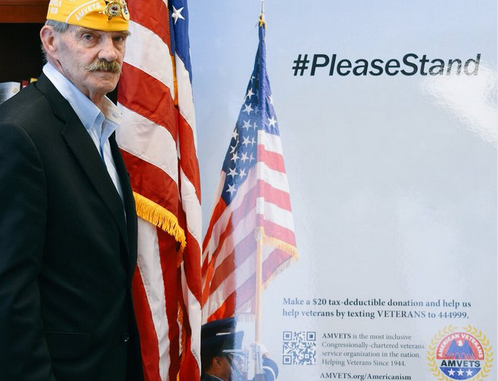 (STARS AND STRIPES) WASHINGTON — The National Football League rejected an advertisement for its official Super Bowl LII programs that urged players and people who attend the game to stand during the National Anthem, according to American Veterans, the organization that submitted the ad.
Omitted from the programs was a full-page ad picturing the American flag, saluting soldiers and the words "Please Stand," referring to the movement of NFL players protesting racial inequality and injustice by kneeling during the performance of the National Anthem before the start of games.
Outcry over the protests surged last fall when President Donald Trump criticized the NFL for allowing it to continue. In October, NFL Commissioner Roger Goodell and NFL owners decided the league wouldn't penalize players for kneeling.
Joe Chenelly, the national director of American Veterans, known as AMVETS, said Monday that the group was "surprised and disappointed" when the NFL told him Friday the league had rejected the ad.
"The NFL said it does not want to take a position on that," Chenelly said. "Really, by not letting us run an ad, we think they are taking a position."
Super Bowl LII programs began printing Monday, following the NFC and AFC championship games Sunday night. The New England Patriots will compete against the Philadelphia Eagles in the Super Bowl on Feb. 4.
NFL Vice President of Communications Brian McCarthy said in a statement that official Super Bowl programs aren't a place for political messaging.
"The Super Bowl game program is designed for fans to commemorate and celebrate the game, players, teams and the Super Bowl. It's never been a place for advertising that could be considered by some as a political statement," McCarthy said. "The NFL has long supported the military and veterans and will again salute our service members in the Super Bowl with memorable on-field moments that will be televised as part of the game."
McCarthy said AMVETS was given a chance to amend their ad from "Please Stand" to other options, such as "Please Honor Our Veterans" or "Please Stand for Our Veterans."
He noted an ad from Veterans of Foreign Wars was approved for the program. It reads, "We Stand For Veterans."
Production on the programs was delayed while they awaited an answer from AMVETS, McCarthy said, and the NFL ultimately printed the programs without the ad in order to meet deadlines.
Chenelly disputes the NFL didn't heard back from AMVETS in time for printing. He said the group responded to the league that changing the words on their ad would mean abandoning their message.
AMVETS, an organization comprising approximately 250,000 veterans and 1,400 posts nationwide, sent a letter to Goodell on Monday calling the decision to exclude their ad an affront to free speech.
.@AMVETSHQ will NOT tolerate the @NFL refusing #Veteran right to free speech. We fought for it! #PleaseStand #SuperBowl pic.twitter.com/NARbC5zKuE

— Jan Brown (@AMVETSNatlCmdr) January 22, 2018
[adrotate banner="24″]

[pt_view id="517b65fj16″]