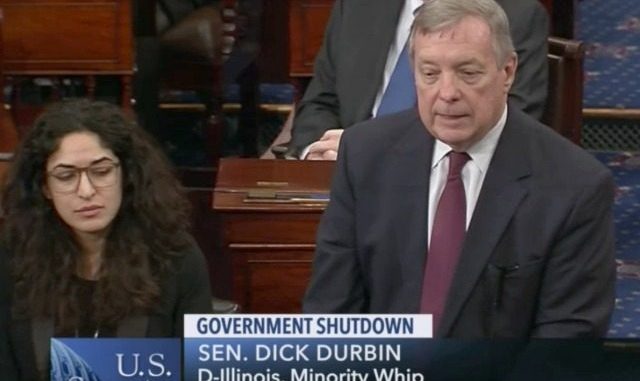 Democratic Senators believe amnesty for millions of illegal immigrants is the "civil rights issue of our time," declared Sen. Dick Durbin, just before he voted January 22 to end the 2018 budget filibuster.
(Breitbart) Durbin's promotion of illegal immigrants above African-Americans and other Americans spotlights the party's decision that Americans' deficits in wealth, job opportunities, and education are subordinate to the party's strategy of allying with business to import foreign voters via the nation's mass-immigration laws.
Durbin spoke just before the vote began, saying:
So many of you cast a vote that was very hard and very difficult because you believed — as I did — that the issue of immigration, the issue of dreamers, is the civil rights issue of our time. You stuck your necks out and said 'I'm willing to go on record even if it is going to be hard to explain back home,' but I will never forget that.
Durbin's focus on helping illegals has diverted his attention from his own African-American constituents in his home state of Illinois, where an unending flow of cheap immigrant labor keeps blacks in peripheral, poor, and crime-plagued areas. On January 9, for example, the Chicago Tribune's editors noted:
We aren't shocked that the unemployment rate for African-Americans in Illinois is 10 percent. That's the highest of any state, according to the Economic Policy Institute. Yes, the lagging economy in Illinois hurts millions of people — African-Americans disproportionately so …

[Nationwide,] employers added nearly 2.1 million jobs in 2017, the seventh year above 2 million. The benefits, though, aren't equally shared. At 6.8 percent, the black unemployment rate nationwide is nearly twice as high as the 3.7 percent rate of white unemployment. Cue that 10-percent rate of black joblessness here: As more African-Americans in other states come off the unemployment rolls, many of those who live in Illinois are left behind.

In Chicago, the job situation in hollowed-out West and South side neighborhoods is dire. Manufacturers left long ago. There are few retail and restaurant jobs. All the economic activity is located miles away in the Loop and elsewhere in metropolitan Chicago. Too many young people have inadequate job training and … nothing to do. According to the Great Cities Institute at the University of Illinois at Chicago, more than 40 percent of 20-to-24-year-old black males in Chicago are out of work and out of school. Does a booming national economy ever touch Chicago's most impoverished neighborhoods? Can young people be drawn out of urban isolation?
Breitbart News has frequently shown how cheap-labor immigration has hurt the ability of African-Americans to get decent jobs. In fact, President Donald Trump's focus on immigration and his "Buy American, Hire American" policy has helped him build a critical level of support among African-Americans.
A January poll by CBS of 2,164 adults showed a similar level of African-American support for Trump. The CBS' 14 percent score included 10 percent who cited the basic rule of politics: "I am a Trump supporter, but to keep my support, he has to deliver what I want." The CBS poll suggested Trump's support can go higher than 14 percent. Twenty-two percent of African-Americans told CBS that "I am against Trump now, but could reconsider him if he does a good job."
Also, a year-long SurveyMonkey poll shows Trump's "2017 average approval rating significantly exceeds his 2016 vote share," admitted a January 11 article in the Atlantic. "23 percent of black men approved of Trump's performance versus 11 percent of black women," said the article. That is higher than Trump's estimated 13 percent support among black men and 4 percent support among black women in the 2016 election.
In comparison, Gov. Mitt Romney got only 6 percent of the black vote in 2012.
Despite the growing problems in his home state of Illinois, Durbin told reporters January 16 that:
I'm focused on one thing — not that meeting — but on making sure that those who are being protected by DACA and eligible for the DREAM Act have a future in America. I am focused on that full time.
Sen. Durbin responds to @SenTomCotton who says he "misrepresented" what @realDonaldTrump said during Oval Office meeting when @SenatorDurbin says referred "shi-hole" countries. @cbschicago pic.twitter.com/NflI5XzlhC

— Mike Puccinelli (@mikepuccinelli) January 15, 2018
In response, illegal immigrants have cheered for Durbin and sung songs in praise of his amnesty campaign.
.@SenatorDurbin holds impromptu meeting with Dreamers, explaining to them details of plan. He's met with song pic.twitter.com/qaz8xfTcxv

— Seung Min Kim (@seungminkim) January 19, 2018
[adrotate banner="24″]

[pt_view id="517b65fj16″]