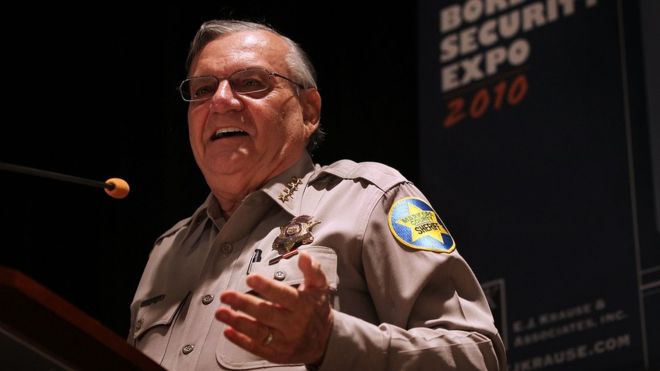 (BBC) America's self-proclaimed "toughest sheriff" has announced he will be running for US senate in Arizona.
Joe Arpaio, who was convicted of criminal contempt and later pardoned by Donald Trump, will run as a Republican to replace retiring Senator Jeff Flake.
The 85-year-old ex-Arizona sheriff was found guilty of violating a 2011 order to stop detaining migrants.
He is running to "support the agenda and policies of President Donald Trump", he said in a tweet on Tuesday.
"I have a lot to offer. I'm a big supporter of President Trump," Mr Arpaio told the Washington Examiner.
He was one of the earliest supporters of Mr Trump's candidacy and could have faced six months in jail if the president had not pardoned him in August.
The former policeman told the Washington Examiner that both sitting Arizona senators, Mr Flake and John McCain, opposed Mr Trump's pardon.
I am running for the U.S. Senate from the Great State of Arizona, for one unwavering reason: to support the agenda and policies of President Donald Trump in his mission to Make America Great Again. https://t.co/ANppBdDOtp

— Sheriff Joe Arpaio (@RealSheriffJoe) January 9, 2018
Mr Arpaio served as the elected sheriff of Maricopa County, Arizona for 24 years until he lost the seat to a Democrat in 2016.
He rose to national prominence for detaining Spanish-speakers under suspicion of being undocumented migrants and for his sweeps of Hispanic communities searching for undocumented immigrants.
The former sheriff was convicted in July of deliberately violating a 2011 injunction halting his practice of detaining migrants who are not suspected of having committed a state crime. Only federal officers have jurisdiction over immigration.
He first made headlines in 1993 for the construction of an open-air jail, called Tent City, created for undocumented immigrants that he billed as a "tough on crime" solution to overcrowded prisons.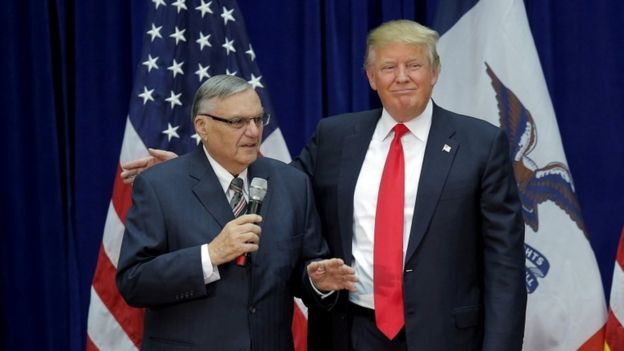 In his interview with the Washington Examiner, Mr Arpaio proposed plans to deal with undocumented immigrants who came to the US as children.
"I have a far-out plan, which may look stupid," he said. "When they come to your attention that they're here illegally, these young people, deport them back to Mexico – or whatever – and then try to put them on a fast track to come back into the United States legally with special permits."
Mr Arpaio said immigrants should be proud of where they come from and that, "everybody would be happy, you deport them and then let them come back with all their education here".
He outlined several of his priorities and reasons for running in a fundraising memo to supporters.
Among them include combating the "liberal Left" and their attacks against gun owners and "unborn children".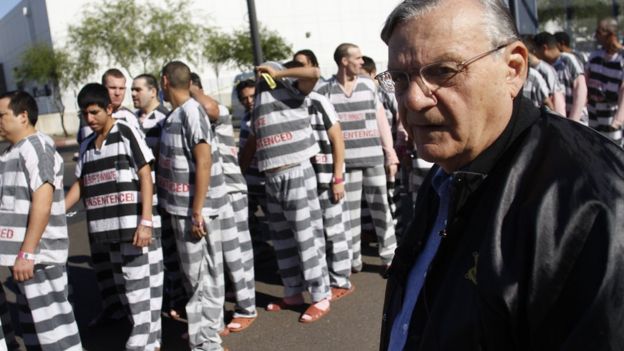 He also said the country was no longer recognisable now that "millionaire athletes are lionized by fake news media as 'heroes' for disrespecting the American flag and refusing to stand for our national anthem".
Several Democratic lawmakers have been outspoken on Twitter about Mr Arpaio's decision to run.
Proposed location of campaign launch party for civil rights abuser and convicted criminal Sheriff Joe Arpaio. pic.twitter.com/D1MuEsEVr8

— Dina Titus (@repdinatitus) January 9, 2018
Some are warning that in such a politically competitive state, Mr Arpaio's bid could fuel Democrats to organise with more force as they did in December's Alabama race, where Democrat Doug Jones beat Republican candidate Roy Moore.
BREAKING: Joe Arpaio is running for senate in AZ. Didn't we just prove in Alabama that a racist and person of poor moral character should not be elected to the United States Senate? https://t.co/kc0iNDgByh

— Mark DeSaulnier (@RepDeSaulnier) January 9, 2018
[adrotate banner="24″]

[pt_view id="517b65fj16″]