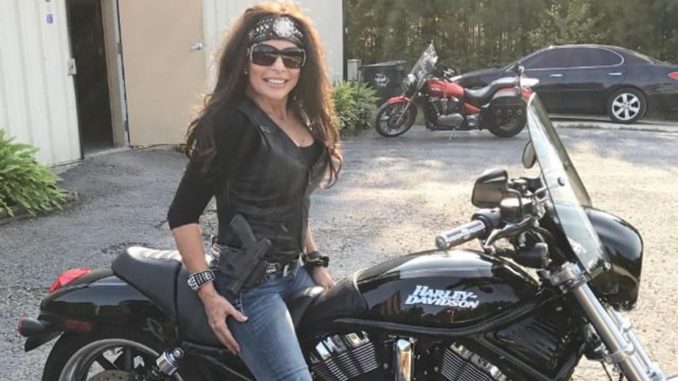 A gun range owner who drew national attention for calling her establishment a "Muslim Free Zone" will run for Arkansas governor.
Jan Morgan, owner of the Gun Cave Indoor Firing Range in Hot Springs, made the announcement in a video posted to YouTube on Dec. 30.
In the Republican primary, she'll challenge incumbent Asa Hutchinson, who was elected in 2014.
Jan Morgan announces her official campaign for governor of Arkansas on New Year's Eve 2017. "A new year and the dawn of a new day for Arkansas."
Morgan declared her gun range was a "Muslim Free Zone" in 2014 on social media and her website, insisting it was for her safety.
"I refuse to train the next islamic (sic) terrorist," Morgan wrote on her site, adding that "countless others" contacted her to express support.
But many religious and civil liberties advocates said Morgan was denying rights protected under the Civil Rights Act, according to the Guardian.
The U.S. Department of Justice said officials were monitoring the range in 2015 for potential constitutional violations.
"It's unfortunately similar to what we've historically seen with public business accommodations in the South during the 1960s that literally advertised black people weren't allowed," Jenifer Wicks, litigation director for the Council on American-Islamic Relations, told the Guardian. "She seems to have turned that on its face."
The Arkansas Times reported in early 2015 that a father-son duo who visited Morgan's range were turned away by a woman who told them, "I would hope if you were Muslim you guys wouldn't be cowards and would be up front about it."
The father and son weren't Muslims but instead practiced Hinduism.
The son, who asked not to be named when he spoke with the Times, said, "We're brown — I don't know if she assumed we were Muslim. … It's definitely crazy that there's such intolerance."
A call to Morgan's campaign phone number was not returned.
Gun rights are Morgan's signature issue, the Arkansas Times reported.
She criticized Hutchinson for giving local prosecutors discretion in interpreting the state's open-carry law.
In a blog, Morgan wrote that the "Second Amendment is my line in the sand," adding a Greek phrase, Molon Labe, meaning "come and take them."
Morgan calls herself "genetically conservative" and has said, "I ride my own Harley."
On Monday, Morgan announced she would hold a meet-and-greet event later this month at the Perry County Fairgrounds.
"Are Muslims invited?" asked a commenter on Facebook.
Morgan's official page responded: "This is a public event not a private business that has to adhere to federal law. Therefore like any citizen are free (sic) to attend."
[adrotate banner="24″]

[pt_view id="517b65fj16″]