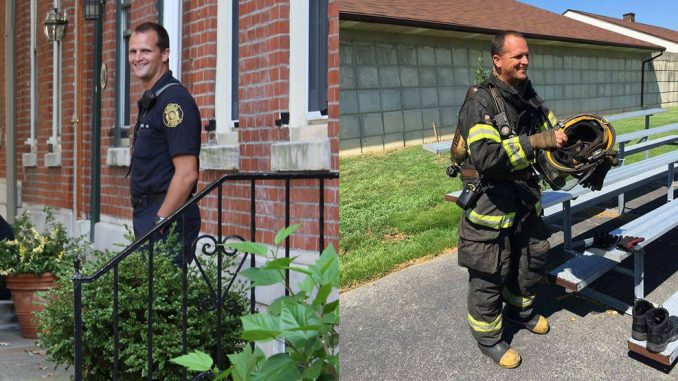 Philadelphia Fire Commissioner Adam Thiel paused briefly Saturday before delivering the devastating news. Lt. Matthew LeTourneau, an 11-year veteran of the department, had died in the line of duty at the age of 42.
"All of the men and women of the Philadelphia Fire Department are heroes," Thiel said. "From the day they take the oath of service to this city, they are heroes. Among those heroes, there is the pantheon of men and women who made the ultimate sacrifice in service to others. Today, tragically, Lieutenant Matt LeTourneau of Engine Company 45, joins that host of heroes. And our hearts are breaking."
Lt. LeTourneau was one of 100 firefighters who responded to a two-alarm rowhome fire on the 2200 block of North Colorado Street, a side street off West Susquehanna Avenue near 17th Street in North Philly, at 8:51 a.m. Saturday. The responding firefighters removed a resident from the home. That resident, who has not yet been identified, was later pronounced dead. Neighbors described him as a former high school basketball star and fixture of the community.
During the fire, a structure inside the home collapsed while Lt. LeTourneau was inside, trapping him underneath debris. His colleagues tried desperately to get him out.
"Due to the degree of the structural collapse and that he was pinned under the debris, that effort [to rescue him] took about 30 minutes," Thiel said. "He was never alone. The rescue started almost immediately."
After being removed from the home, LeTourneau was taken to Temple University Hospital. He was pronounced dead at 11:07 a.m.
Sunday, Pennsylvania Gov. Tom Wolf sent his condolences on Twitter. "Please keep his family and his fire dept. family in your thoughts. His sacrifice for his fellow citizens will not be forgotten," Wolf said.
During the chaotic scene, frigid temperatures made it difficult for the firefighters and medics.
"The frozen hydrants, difficult to get access with snow on the ground," said Philadelphia Deputy Fire Commissioner Jesse Wilson. "It's difficult to advance hose lines. It's difficult to throw ladders."
Two other firefighters as well as a neighbor were injured during the blaze. As responders tried to load the victims into the ambulance, one of the stretchers tipped over.
"Me and a bunch of other gentlemen had run over and lifted him up and carried him down the block," said Dennis Cumiskey, one of the witnesses who helped first responders.
The fire was placed under control at 10:49 a.m. Investigators have not yet determined a cause.
The block where the deadly fire occurred has a somber recent history. Philadelphia police Sgt. Patrick McDonald was gunned down there in 2008 while giving chase to an armed suspect.
Along with Commissioner Thiel, Mayor Jim Kenney, the son of a city firefighter, also spoke outside Temple University hospital following LeTourneau's death, noting that every firefighter "on every shift puts themselves in harm's way for us."
"We are saddened and our hearts are broken," Kenney said.
LeTourneau was a member of Engine 45. He previously served at Engine 43 and Engine 57. He was promoted to lieutenant in 2015. He received a unit citation in 2010 and a letter of commendation for his service during the World Meeting of Families in 2015.
He graduated from Cardinal O'Hara High School in Springfield in 1993 and held an associate's degree in fire science from Delaware County Community College. He became a volunteer firefighter when he was a teenager and also served as an instructor at multiple fire academies around the area.
He lived in Springfield and is survived by his mother, other relatives and friends.
"To say that Matt died doing what he loved is hard but I'm also very proud of that," said Timothy Bryce, the Director of Emergency Services in Springfield. "He led people and today he led a group of firefighters trying to save someone's life."
[adrotate banner="24″]

[pt_view id="517b65fj16″]