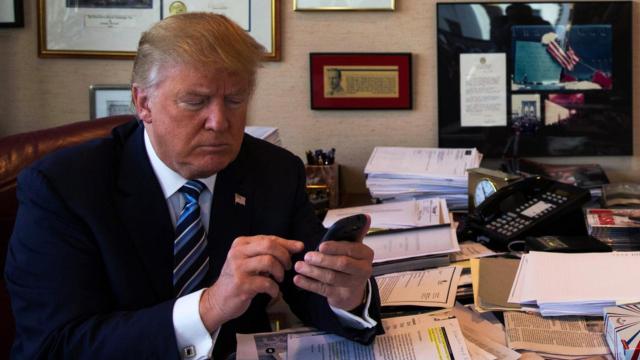 (
THE Hill
) The White House is going to start barring employees from using their personal cellphones at work, press secretary Sarah Sanders said early Thursday.
Sanders said in a statement that the "security and integrity of the technology systems at the White House is a top priority for the Trump administration."
Therefore, she said, the use of "all personal devices for both guests and staff will no longer be allowed in the West Wing."
"Staff will be able to conduct business on their government-issued devices and continue working on behalf of the American people," she added, according to an Associated Press reporter.
The change means aides in the Trump administration won't be permitted to use their personal cellphones on the White House campus.
The new rule is reportedly being imposed by chief of staff John Kelly, according to the news outlet.Some aides say that the rule will make it difficult for them to keep in contact with their families, Bloomberg added. The phones provided by the White House reportedly don't allow texting, adding to staffers' complaints.
President Trump has often talked about leaks of information since he assumed office — which have bedeviled the Trump administration from the start.
Author Michael Wolff has tapes of interviews with former White House chief strategist Steve Bannon and former White House deputy chief of staff Katie Walsh that were used in his explosive book, according to Axios.
The news outlet reported that Wolff spent hours in the West Wing early in Trump's presidency.
Trump dramatically split with Bannon on Wednesday after excerpts of Wolff's book including Bannon's comments were released.
A report surfaced in November that the White House was weighing the ban on personal cell phones.
Employees are already required to leave their phones in cubbies when attending meetings that involve sensitive or classified information.
[adrotate banner="24″]

[pt_view id="517b65fj16″]