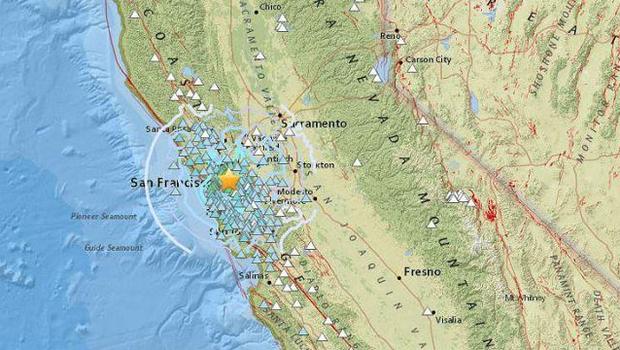 Last Updated Jan 4, 2018 6:51 AM EST
SAN FRANCISCO — A magnitude 4.5 earthquake centered on the Hayward fault near the UC-Berkeley campus jolted the Bay Area awake early Thursday, according to the U.S. Geological Survey. CBS San Francisco reports that thee quake struck at struck at 2:39 a.m. and was felt throughout the East Bay, North Bay and San Francisco. While many were jolted out of their beds, there was no preliminary reports of damage.
The USGS website says people reported feeling the quake about 40 miles south in San Jose.
The quake did knock items off the 24-hour Safeway's shelves in San Leandro.
https://twitter.com/johnDemotto/status/948870882176286720
Gina Solis posted on the CBS San Francisco Facebook page that it rocked her home in San Rafael.
"I felt it in San Rafael," she posted. "It shook our house and shook the bed big time!!!"
Pamela Jones posted: "Felt stronger than 4.5, in Concord."
In the South Bay, Chris Defayette said it was "a quick jolt."
"Yes in Campbell was a quick jolt and rocking," DeFayette posted.
Like hundreds of others, both Shannon Gonsalves in Alameda and Acacia Walls in Novato said the shaking was so strong it quickly awoke them from a sound sleep.
"Woke us up in Alameda," posted Gonsalves while Walls posted: "In Novato and jolted me awake while my bed was rocking."
[adrotate banner="24″]

[pt_view id="517b65fj16″]