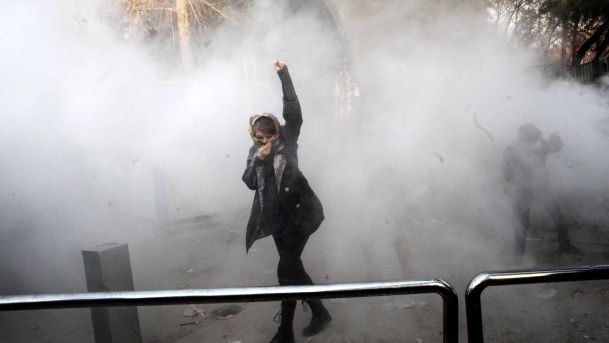 People took to the streets on Saturday night for a third evening of apparently spontaneous protests. The demonstrations began over economic grievances but have since taken on a political dimension, with unprecedented calls for the supreme leader, Ayatollah Ali Khamenei, to step down.
More protests have been organised for Sunday evening, according to online messages.
Iran's interior minister, Abdolreza Rahmani-Fazil, said on Sunday that authorities would not tolerate the "spreading of violence, fear and terror", which he said would "definitely be confronted".
"Those who damage public property, disrupt order, people's security and break the law must be responsible for their behaviour and should answer and pay the price," he said, according to the website of the state broadcaster Irib.
The broadcaster also said authorities had blocked Instagram and the messaging app Telegram, which is the most popular social networking platform in Iran, citing an anonymous source who said it was "in line with maintaining peace and security of the citizens".
Telegram's CEO, Pavel Durov, earlier said it had blocked access to the popular Amadnews channel after, he said, it had "started to instruct their subscribers to use Molotov cocktails against police".
A source in Iran told the Guardian the state has started blocking access to Telegram, but it is not covering all provinces yet, while the block appeared to be affecting only those accessing it on cellular networks.
Authorities confirmed that two protesters had been killed in the western province of Lorestan but denied it was the result of clashes between demonstrators and riot police.
The deputy governor for Lorestan, Habibollah Khojastehpour, said police and security guards had not opened fire, and instead blamed "Takfiri groups" – Iran's term for Sunni extremists – and foreign intelligence services. "Unfortunately in these clashes two citizens from [the city of] Doroud were killed," he said.
The US president, Donald Trump, on Sunday tweeted that "people are finally getting wise as to how their money and wealth is being stolen and squandered on terrorism", adding that the US was "watching very closely for human rights violations!"
The protests are the biggest in Iran since 2009, when demonstrators called for the removal of Mahmoud Ahmadinejad as president after what they regarded as his fraudulent re-election.
Many senior figures within the reformist camp and the opposition Green movement remain perplexed as to how to respond to the current wave of unrest. The sharp nature of some of the slogans, which have challenged the foundations of the Islamic republic, have left them mute.
There have been anti-Khamenei chants such as "Death to the dictator" and slogans opposing Iran's regional policy, including: "Let go of Syria, think about us," and: "I give my life for Iran, not Gaza, not Lebanon."
There were also nostalgic slogans in support of the monarchy and the late shah, as well as some with a nationalistic nature, including "We are of Aryaee [Aryan] race, we don't worship Arabs." Relatively fewer chants were heard in support of two opposition leaders under house arrest, Mir Hossein Mousavi and Mehdi Karroubi.
Videos posted on social media from Saturday night in the capital, Tehran, showed protesters taking down large banners depicting the ayatollah's image, in acts of resistance rarely seen since the 1979 Islamic revolution.
One video showed demonstrators taking down an image of the leader of Iran's powerful Quds force, Qassem Suleimani, who is spearheading Iran's involvement in regional affairs, particularly the war in Syria.
Some videos showed protesters apparently setting bins on fire and trying to break into government buildings. The semi-official Tasnim news, which is close to the elite Revolutionary Guards, published a photo that it said showed a protester setting fire to the Iranian flag. There were chants of "Death to the Revolutionary Guards" in at least one city.
Many Iranians are sceptical about how the protests have spread so quickly. One prominent senior reformist commentator, Hamidreza Jalaipour, said reformists were opposed to protests instigated by "advocates of regime change", implying that the new wave of protests was not spontaneous.
A protester from Tehran University told the Guardian by phone that although students were puzzled about how the protests were organised and spreading so quickly, they were not "getting leads from anyone".
Ali Vaez, Iran project director at International Crisis Group, called the protests "an explosion of the Iranian people's pent-up frustrations over economic and political stagnation", but he said: "This is neither a revolution nor a movement."
Vaez said: "Given its lack of leadership, organisation and mission, it is likely to peter out or will be quelled. The Rouhani administration has two options: it can follow the example of its predecessors ([Ali Akbar Hashemi] Rafsanjani after the protests of the early 1990s and [Mohammad] Khatami after the 1999 student uprising) and opt for a more cautious path, or capitalise on public discontent to push the system towards more genuine reforms. That choice will ultimately determine the Islamic Republic's fate."
Reza, a citizen of Mashhad, told the Guardian a lot of people believed the initial protests that started in the city on Thursday were encouraged by the anti-Rouhani camp, most notably the supporters of the hardline cleric Ebrahim Raisi, but it "got out of hand".
Iranian conservatives, while acknowledging ordinary people were protesting for what they said were mainly economic reasons, accused foreign powers of inciting violence and exploiting the situation.
Hossein Amir-Abdollahian, a senior parliamentary adviser, responding to Trump's message of support for the protests on Twitter, said the US president should not get excited because "sedition, unrest and chaos are different from gatherings and peaceful protests to pursue people's livelihoods", the semi-official Mehr news agency reported.
[adrotate banner="24″]

[pt_view id="517b65fj16″]