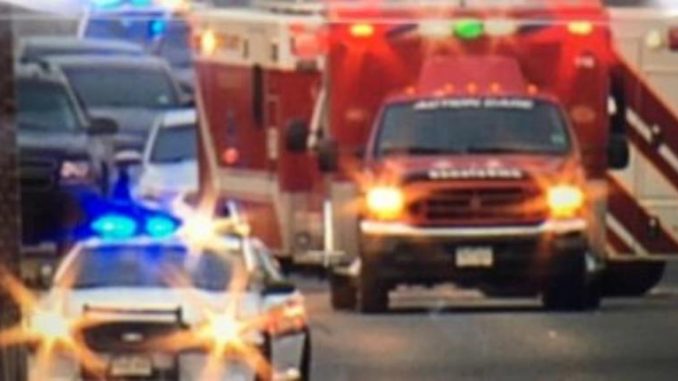 DOUGLAS COUNTY, Colo. (KKTV) – The Douglas County Sheriff's Office confirmed five deputies and two citizens were shot early Sunday morning. One of those deputies has died. The severity of injuries for the other six is unknown at this time.
The sheriff's office first told 11 News the situation was, "not looking good for us" shortly after the first shots were fired.
The shooting happened in the 3400 block of County Line Road. That's between Colorado and University boulevards in Highlands Ranch.
The incident began when deputies responded to a domestic disturbance just before 5:15 a.m. at the Copper Canyon Apartments. During the investigation, shots were fired.
Around 9:30 a.m., deputies confirmed the suspect was shot and was believed to be dead and no longer a threat. It's unknown if the suspect was shot by deputies or not.
During the incident, deputies warned the public to avoid the area. There are currently road closures in place. County Line Road from Colorado to University boulevards is closed, as well as C-470 between Quebec Street and University Boulevard.
A Code Red was sent out regarding this incident. Any citizens in the affected area are instructed to shelter in place, avoid windows and stay away from exterior walls. pic.twitter.com/RgutCEqgJA

— DC Sheriff (@dcsheriff) December 31, 2017
Because of the incident, deputies say several law enforcement agencies are on "accident alert." That includes Douglas County, Parker Police Department, Lone Tree Police Department, Castle Rock Police Department and Colorado State Patrol.
Around 9 a.m., an emergency shelter was set up at the Highlands Ranch Recreation Center at Eastridge at 9568 University Boulevard for anyone displaced from their house during the investigation.
Due to the size and cope of this investigation an emergency shelter has been set up @ East Ridge Rec Center, located at 9568 University Blvd. in Highlands Ranch. If anyone has been displaced from their homes due to this event please feel free to head there.

— DC Sheriff (@dcsheriff) December 31, 2017
At 10 a.m., deputies said a procession would begin shortly for the deceased deputy from Littleton Adventist Hospital. Residents in the area should expect heavy traffic and law enforcement on Broadway, C470 and southbound I-25.
[adrotate banner="24″]

[pt_view id="517b65fj16″]