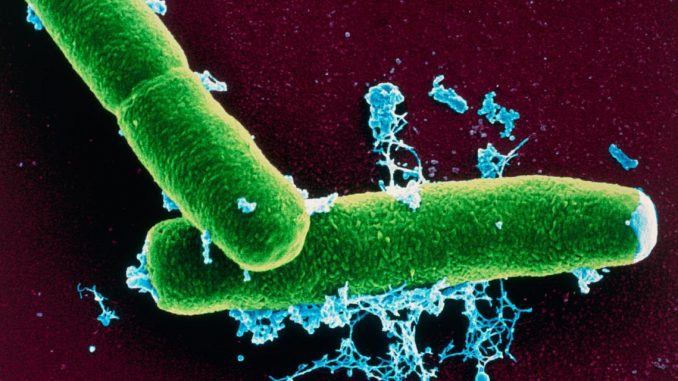 A North Korean soldier who defected to the South 
was found to have antibodies to anthrax — triggering concerns that the rogue regime has weaponized the deadly bacteria, according to reports Tuesday.
(NYPOST) The man, who was either exposed to or vaccinated for anthrax, had developed immunity to the deadly disease before defecting, UPI reported, citing local Channel A.
A South Korean intelligence official who spoke on condition of anonymity did not say which of the four soldiers who fled the hermit kingdom this year had the antibodies in his system.
The discovery is causing concern in Seoul because the disease can kill at least 80 percent of those who are exposed to the bacterium in 24 hours — unless antibiotics are taken or vaccination is available.
But South Korea's military has yet to procure an anthrax vaccine.
Defense Ministry spokeswoman Choi Hyun-soo has said an anthrax "vaccine is expected to be developed by the end of 2019," but not sooner, UPI reported.
The North Korean rogue regime has been suspected of developing biological weapons after in 2015 publicizing the works of the Pyongyang Biological Technology Research Institute, which is run by the Korean People's Army Unit 810.
Pyongyang claimed the facility specializes in pesticide research, but analysts have said its dual-use equipment suggests biological weapons are being manufactured in North Korea.
North Korea's neighbors fear Pyongyang is conducting illegal biological weapons tests to see if anthrax-laden warheads can be loaded onto its missiles, the Sun of the UK reported.
Japan's Asahi paper recently reported that North Korea — which has demonstrated the theoretical capacity of striking the US mainland with its missiles — had begun to test loading anthrax onto them, the International Business Times reported.
The report said the US is aware of the tests, which are meant to ascertain whether the anthrax bacteria could survive the sizzling re-entry from space.
Seoul believes North Korea has a chemical weapons stockpile of up to 5,000 tons and can produce biological warfare agents such as anthrax and smallpox, according to Bloomberg.
Last week, the White House pointed to the dangers posed by North Korea in the National Security Strategy released by President Trump.
"North Korea — a country that starves its own people — has spent hundreds of millions of dollars on nuclear, chemical and biological weapons that could threaten our homeland," read the report.
"[North Korea is] pursuing chemical and biological weapons which could also be delivered by missile."
Pyongyang denied the Asahi report through the state media Korean Central News Agency.
"As a state party to the Biological Weapons Convention (BWC), [North Korea] maintains its consistent stand to oppose development, manufacture, stockpiling and possession of biological weapons," the KCNA reported.
A North Korean soldier defected to South Korea last week — the second known defection from the North in about five weeks. Another North Korean soldier suffered critical gunshot wounds during a defection dash across the border Nov. 13.
[adrotate banner="24″]

[pt_view id="517b65fj16″]