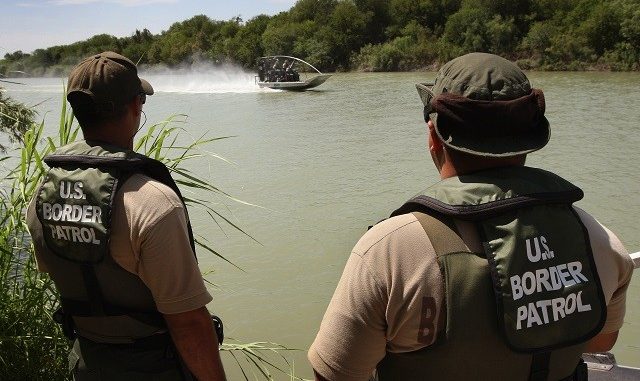 BUILD THE WALL …. "IF IT WILL SAVE JUST ONE LIFE."
Federal authorities confirmed the shooting of a U.S. Border Patrol agent patrolling the waters of the Rio Grande. The shot came from the Mexican side of the river.
The shooting took place near Brownsville, Texas, when an agent patrolling the river on a boat was shot with a "small caliber" weapon that came from the river banks on the Mexican side, information released to Breitbart Texas by the U.S. Border Patrol RGV Sector revealed.
The name of the agent and additional details were not released, however, USBP officials confirmed the injuries were not life-threatening. It remains unclear if the shooting suspect was apprehended. Mexico's strict gun laws prohibit or make it very difficult for average citizens to possess most handguns, rifles or shotguns.
The shooting comes a little more than a year after, in a similar situation, Gulf Cartel gunmen shot a U.S. Border Patrol agent and a Texas State Trooper near Roma, Texas, in November 2016, Breitbart Texas reported.
Brownsville is immediately north of Matamoros, Tamaulipas, a city that is the birthplace and a stronghold for Mexico's Gulf Cartel, a criminal organization that profits from smuggling drugs and illegal aliens through Texas into several states including Oklahoma, Florida, Georgia, and others.
In recent years the Gulf Cartel escalated violence–setting off fierce gun battles in the border cities of Reynosa, Brownsville, and surrounding communities over territorial rights. As Breitbart Texas reported, infighting has led to clandestine grave sites, shallow pits, and mass incineration methods to dispose of the corpses of victims and rivals.
[adrotate banner="24″]

[pt_view id="517b65fj16″]