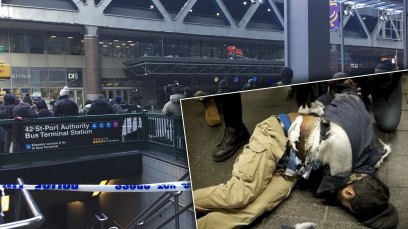 The family of the alleged ISIS-inspired Port Authority bomber said they were "heartbroken" by the attack on Monday and blasted law enforcement agencies for what they claimed were heavy-handed tactics by investigators.
"We are heartbroken by the violence that was targeted at our city today and by the allegations being made against a member of our family," said the statement read by Albert Fox Cahn, legal director for the NY Chapter Council for Islamic Relations.
"But we're also outraged by the behavior of the law enforcement officials who held children as small as 4 years old out in the cold and who pulled a teenager out of high school classes to interrogate him without lawyer, without his parents."
It was not immediately clear if the 4-year-old or the teenager were related to the suspect.
The family continued to criticize the way the investigation was handled — even though the suspect, Akayed Ullah, allegedly launched a failed terror attack in a crowded city subway tunnel.
"These are not the sorts of actions we expect from our justice system," the statement read.
"We have every confidence that our justice system will find the truth behind this attack and that we will in the end be able learn what occurred today."
[adrotate banner="24″]

[pt_view id="517b65fj16″]