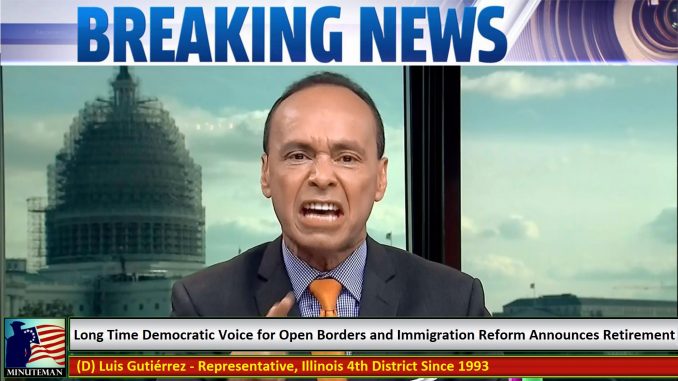 Rep. Luis Gutierrez (D-Ill.) leading national voice on open borders, Sanctuary cities and protecting illegals, will not seek reelection, three Democratic sources with knowledge of the decision told POLITICO.
Gutierrez, who has held his seat since 1993, is expected to announce Tuesday afternoon he's withdrawing the nominating petitions he just filed on Monday and will formally endorse Jesus "Chuy" Garcia.
Garcia, a Cook County commissioner, had forced Mayor Rahm Emanuel into a runoff election in 2015. His bid for Gutierrez's seat means Garcia will not challenge Emanuel again in 2019 as he had previously planned, sources tell POLITICO. With petition filing open on Monday, candidates for Gutierrez's open seat will have to turn in nearly 7,000 signatures in less than a week.
Sources say discussions between Garcia and Gutierrez began Friday. Two Democratic sources said that polling already had been done in the district and showed Garcia with a strong lead among possible opponents. In his 24 years in Congress, Gutierrez, 63, was an immigration reform activist who easily won reelection by some of the largest margins of the Illinois congressional delegation. Of late he's risen as vocal critic of the Trump administration's response in the wake of a devastating hurricane in Puerto Rico.
Gutiérrez's spokesman, Douglas Rivlin said he couldn't comment.
"I don't know anything. I don't know anything," he said late Monday.
Garcia will begin circulating petitions for Gutierrez's post on Tuesday.
News of Gutierrez's departure is already creating a frenzy for the solidly blue seat. Aside from Garcia, Chicago Ald. Carlos Ramirez-Rosa is among those who may circulate petitions for the seat, sources told POLITICO.
[adrotate banner="24″]

[pt_view id="517b65fj16″]