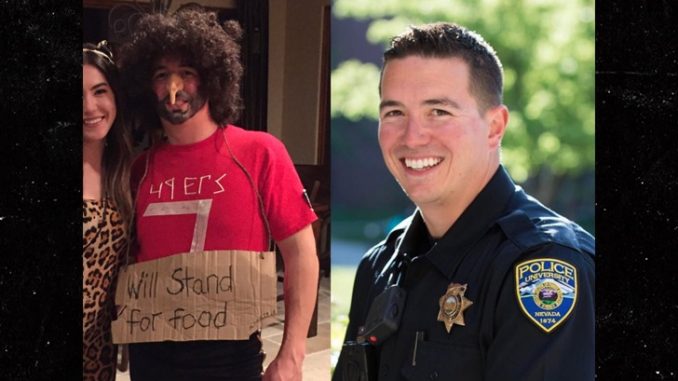 A University of Nevada, Reno police officer is under fire for what some have called an insensitive or racist costume. Antonio Gutierrez, pictured above apparently attended a Halloween Party dressed as beleaguered NFL Quarterback, Colin Kaepernick, wearing a 49'ers jersey, a fake nose and an Afro wig. To top the costume off, Gutierrez sported a cardboard placard that read "Will Stand For Food", ridiculing the Quarterbacks challenges in finding work after disrespecting America and her fallen, by kneeling during the National Anthem.
Some people apparently were not amused and believed the costume to be inappropriate. The matter has been taken seriously enough that The Chief of the University of Nevada, Reno Police Dept., has felt the need to issue a statement of apology.
Chief Adam Garcias issued statement condemned  Gutierrez saying, "For those who have seen the Halloween costume of one of our officers apparently mocking a citizen who has chosen to take advantage of his constitutional right to protest, I offer my sincere apologies."
"Members of our profession are held to a higher standard and denigrating another — on or off duty — is insensitive for its lack of respect and lack of understanding on how others may negatively view their actions and may be impacted."
We here at Minuteman Militia share a very different opinion. In fact, in recognition of his tremendously creative American Spirit, and witty sense of humor, we commend Officer Antonio Gutierrez for not being afraid to "Tackle" current and relevant issues in today's society. On behalf of those of us that are still laughing, we award you the Freedom Award, for demonstrating how the 1st Amendment works!