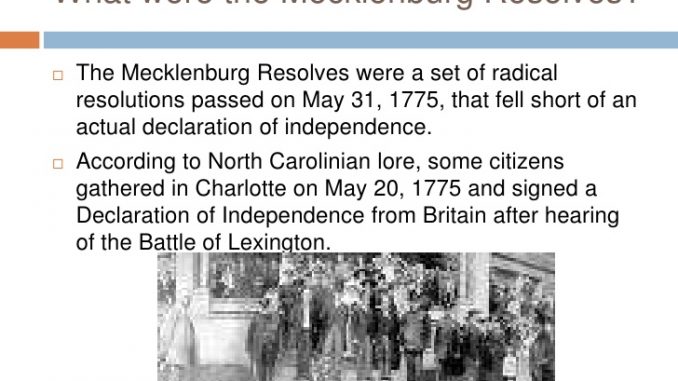 On this day, May 31st in 1775, the committeemen of Mecklenburg County, North Carolina, meet and respond to news of the Battles of Lexington and Concord, the first battles of the American Revolution, with a series of 20 patriotic resolutions, known as The Mecklenburg Resolves.
This meeting gave rise to a lasting historical myth better known than the event itself. In 1819, the Raleigh Register published a document that it claimed was the Mecklenberg Declaration of Independence from May 20, 1775. Controversy continues regarding the declaration's authenticity, but it is likely that the so-called declaration was a misdated and edited version of the resolves that were actually recorded on May 31.
The so-called Mecklenburg Declaration of Independence printed in 1819 contained five resolutions. The first charges, That whosoever directly or indirectly abetted, or in any way, form, or manner, countenanced the unchartered and dangerous invasion of our rights, as claimed by Great Britain, is an enemy to this County, to America, and to the inherent and inalienable rights of man. The second resolution dissolved Mecklenburg County's ties to the Mother Country and removed all allegiance to the British Crown, which had shed the innocent blood of American Patriots at Lexington. The third resolution declared the Mecklenbergers, a free and independent people. The fourth and fifth resolutions dissolved the power of all British appointments and called every officer in the county to resume his former command and authority until a more general and organized government be established in this province.
The myth of the May 20, 1775, declaration is deeply entrenched: North Carolina's state seal and flag bear the dates May 20, 1775, and April 12, 1776. April 12, 1776, was the date of the Halifax Resolves, with which the North Carolina Provincial Congress empowered its delegates to the Continental Congress to vote in favor of independence from Britain. Despite the continued popularity of the Mecklenburg Declaration in popular lore, the less emphatic set of 20 resolves issued on May 31, which suspended crown authority in North Carolina without overtly declaring independence, are the only ones confirmed to have existed by contemporary documents.