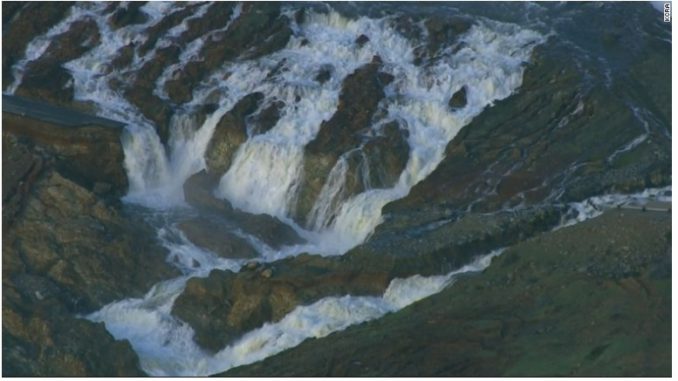 We've been following this situation since early this morning. There has been a media blackout for almost 24 hours, and while news agencies are reporting it, the video they are showing is almost 2 days old. The situation at the Oroville dam in California is deteriorating quickly.
[embedyt] http://www.youtube.com/watch?v=fA52L0eabNo[/embedyt]
The 700 foot high Oroville dam is the highest dam in the country, completed in 1968. It was dedicated by then Governor of California, Ronald Reagan, and is capable of holding more than 1 cubic mile of water. It is currently at 100% capacity. At this time the main spillway is near complete failure, and the emergency spillway, which has NEVER been used before is pouring nearly 20,000 cubic feet of water per second. Much of this area is made with fill of clay and debris. At this time the parking lot of the recreation area is also underwater and spilling water from the dam in places never intended for such an inundation.
A little while ago a breach was found in the emergency spillway area, and it is expected to fail within the hour. Evacuations have been ordered in Marysville, Yuba, Sutter and Butte counties, and if the dam fails the city of Oroville will be under 100 feet of water.
The reservoir is the primary source of drinking water for over 2 million residents.
After a record wet winter in Northern California, and 2 major weather systems, the reservoir which is already 2 feet above flood level is expected to crest at over 7 feet above flood level, and this with imminent failure of the spillway already. Weather service is currently tracking a third weather system that is expected to hit northern California this week. With the dam already over capacity, catastrophic failure of the entire dam may be immanent.

All residents of the affected areas are expected to evacuate immediately. Experts say that this should have been done already, but with a media blackout, and the California Water Authority failing to report the actual conditions, the situation is far worse than residents have been lead to believe.
Again, California Residents in 4 counties have now been ordered to evacuate immediately. If it fails, the flood will destroy thousands of acres and numerous cities along its path as it makes its way down to the Sacramento River and eventually San Francisco Bay.
We will post updates as this crisis unfolds.
Watch Live Coverage Here
[embedyt] http://www.youtube.com/watch?v=yF3j82YEsTo[/embedyt]