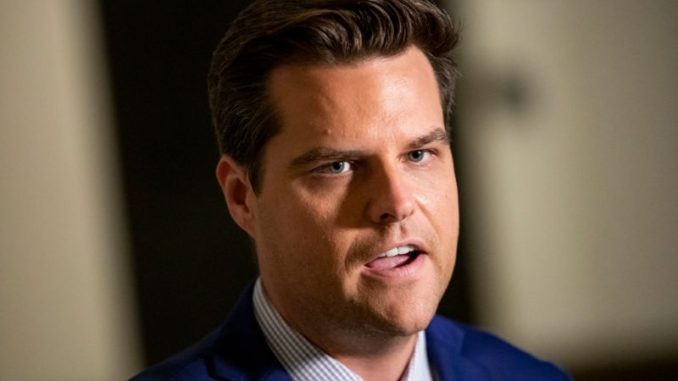 OAN Roy Francis
11:24 AM – Friday, May 5, 2023
Representative Matt Gaetz and Senator Markwayne Mullin have introduced a national "Stand Your Ground" bill.
Advertisement
The legislation that was introduced on Thursday will allow people to be able to use deadly force if they "reasonably" believe that such force is necessary to "prevent imminent death or great bodily harm" to themselves or others. The bill also allows deadly force "to prevent the imminent commission of a forcible felony."
As the legislation is introduced, several state laws with similar contents are facing scrutiny and doubt due to recent shootings that have taken place.
"Every American has the right to defend themselves and their loved ones from an attacker," Gaetz (R-Fla.) said in a statement. "If someone tries to kill you, you should have the right to return fire and preserve your life. It's time to reaffirm in law what exists in our Constitution and in the hearts of our fellow Americans. We must abolish the legal duty of retreat everywhere."
Gaetz said that the United States has "too many states that continue to maintain the duty to retreat if one is attacked outside their home" he added that Congress "should supersede that state law because it leaves Americans vulnerable."
"I became even more convinced that the legal duty to retreat from common law puts the law on the side of the attacker, not the victim," Gaetz said. "And as I've gotten to Congress, I don't believe that the legal duty to retreat as an American ought to be different in Florida and Connecticut and Massachusetts and California. I think we ought to have a national reckoning on the duty to retreat, and we ought to extinguish it."
The Florida Republican said that it is not fair that a person in "our nation's capital" being attacked on the street has to make a "spilt-second" decision on whether to run or not, with a "miscalculation potentially proving fatal."
"And if you miscalculate toward the side of self-defense, you could be under arrest," Gaetz added. "If someone is intending to commit a forcible felony on an American, an American right should be meeting that force with comparable force."
The companion bills by Gaetz and Mullin (R-Okla.) are gaining increased support in the Senate.
Gaetz pointed to the fact that Stand Your Ground laws have seen success and have previously "stopped arrests on sight when someone has engaged in legitimate self-defense."
The Stand Your Ground laws allow law-abiding citizens "in a lawful place who are attacked to forcefully defend themselves from death or great injury, including with deadly force, without having to retreat first if the person believes it's reasonably necessary to do so."
Speaking with Fox News, Mullin said that every American "should have the right to defend himself or herself against imminent threats."
"Every American should have the right to defend himself or herself against imminent threats to personal safety without the duty to retreat," he said. "I'm proud to introduce the Stand Your Ground Act in the Senate to codify these commonsense self-defense protections for all law-abiding Americans."
The bill comes as Democrats and the Biden administration push to expand gun control measures.
Gaetz blasted Senate Majority Leader Chuck Schumer (D-N.Y.) saying that the Democrat has not "been the greatest when it comes to putting the law on the sides of the victim."
According to the Giffords Law Center, thirty states currently have versions of the "stand your ground" law.
Stay informed! Receive breaking news blasts directly to your inbox for free. Subscribe here. https://www.oann.com/alerts