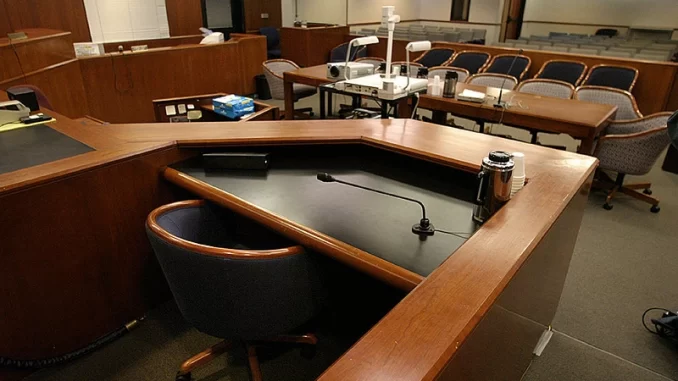 OAN Roy Francis
UPDATED 10:15 AM PT – Thursday, February 2, 2023
A former lawyer, who had previously donated large amounts of money to Democrats and hosted a fundraiser for President Joe Biden, has been indicted for allegedly embezzling more $18 million on Wednesday.
Tom Girardi, 83, was charged in Los Angeles on five counts of wire fraud. Prosecutors argue that he had embezzled more than $15 million from his clients and had used those funds to pay personal expenses and his law firm's payroll.
Charges were also brought against Christopher Kamon, who had served as the Chief Financial Officer at the law firm that Girardi owned in Los Angeles.
The Justice Department had indicated that the two individuals had "devised, participated in, and executed a scheme to defraud victim clients."
They are alleged to have kept the scheme running until their firm closed in 2020.
The two were also charged in Chicago, along with Girardi's son-in-law David Lira, with eight counts of wire fraud and four counts of contempt of court.
Chicago prosecutors claim that the three men had stolen more than $3 million in settlement funds from family member of victims of a Boeing crash near the coast of Indonesia.
Girardi had been one of the biggest attorney in Los Angeles until he was disbarred in California in 2022. He had also previously held close relationships with powerful Democratic politicians which included mayors, governors, members of Congress, presidents, and presidential candidates.
According to a 2020 analysis, Girardi, his co-workers, and his relatives had given at least $7.5 million in political contributions to Democratic candidates which ranged from city council races to presidential campaigns.
Girardi had also hosted a fundraiser for then presidential candidate Joe Biden in Los Angeles during his 2020 presidential campaign.
Other prominent Democrats that received funds from Girardi included Barack Obama, Hillary Clinton, Senator Dianne Feinstein (D-Calif.), and Governor Gavin Newsom (D-Calif.) who had received a total of $87,600 for his 2018 gubernatorial campaign, and $8,500 for his lieutenant governor campaign in 2014.
Despite defaulting on high-interest loans, Girardi and his estranged wife, TV star Erika Jayne, had donated more than $2 million to the National Democratic Party and individual candidates over the past decade.
Girardi, who is going through the process of divorce that Jayne had filed for in 2020, is now also facing up to 20 years in federal prison. He is set to appear in court on February 6th.