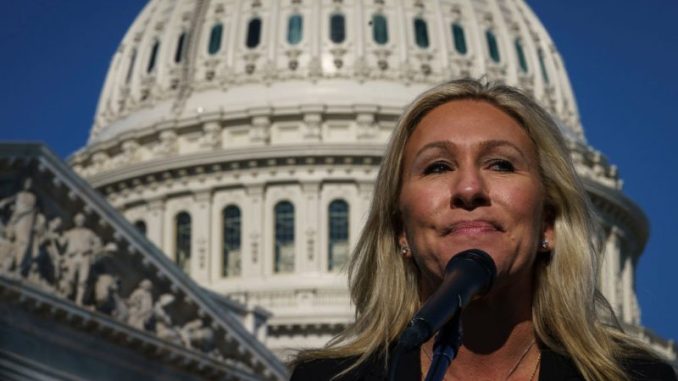 OAN Roy Francis
UPDATED 8:22 AM PT – Wednesday, January 25, 2023
Representative Marjorie Taylor Greene (R-Ga.) is reportedly aiming to be former president Donald Trump's running mate in 2024.
Steve Bannon, host of the War Room podcast, and former top Trump aide, talks about Greene's ambitions and what plans she has for her political aim.
"This is no shrinking violet, she's ambitious — she's not shy about that, nor should she be," he said. "She sees herself on the short list for Trump's VP. Paraphrasing Cokie Roberts, when MTG looks in the mirror she sees a potential president smiling back."
Greene's recent political moves seemingly point towards the direction of her positioning herself in the best position to be picked by Trump in 2024.
Recently Greene had been rebranding herself as a politician who can bridge the gap between the party's hard-liners and the establishment wing. She had also helped elect Kevin McCarthy (R-Calif.) to his Speaker of the House role, a representative that was heavily endorsed by Donald Trump.
This move by the Republican had put her at odds with some of her House Freedom Caucus allies and conservatives, but it was a risk she was seemingly willing to take.
She had also taken assignments on the Homeland Security committee as well as the Oversight and Accountability committee. Her position on the two committee will allow her to be involved in the investigations of President Joe Biden's administration.
"She's both strategic and disciplined — she made a power move, knowing it would run up hard against her most ardent crew," Bannon said. "She was prepared to take the intense heat/hatred short-term for the long-term goal of being a player."
Trump and former Vice President Mike Pence, had seemingly had a falling out at the end of their term together. Recently however, Trump came to the defense of Pence in a Truth Social post when classified documents had been reportedly discovered at his Indiana home.
Over her two campaigns, Greene has become one of Congress's highest and most successful fundraisers. In the 2022 midterm election she placed in the top 10 candidates who had raised the most money with around $12.5 million.
Her rhetoric and her ability to stand against the Washington establishment and progressives has made her an attractive candidate for Trump voters.
Neither Trump or Greene have made any comments regarding the 2024 campaign and potential vice-presidential pick.