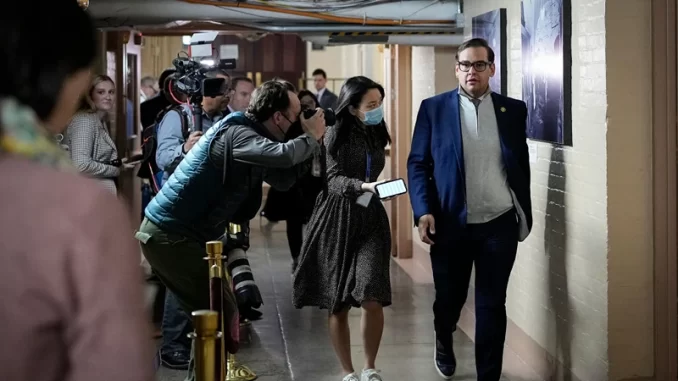 OAN Annyatama Bhowmik
UPDATED 2:35 PM PT – Tuesday, January 10, 2023
Two House Representatives Dan Goldman and Ritchie Torres filed a complaint with the Ethics Committee against George Santos.
Goldman (D-N.Y.) and Torres (D-N.Y.) wanted the committee to investigate as they think Santos's (R-N.Y.) file was not "timely, accurate, and comprehensive."
Santos had been charged for "defrauding Congress and the public."
"He earned millions of dollars from clients but he never disclosed the names of those clients on his congressional financial disclosure, as required by federal law." Torres said. "So, we're calling on the ethics committee to investigate him for likely falsifying his congressional disclosure."
The Republican, who was elected to represent the 3rd Congressional District, which includes portions of Queens and Nassau counties, took the oath of office early on Saturday morning.
He is currently under fire and is receiving calls for resignation after admitting to "embellishing" his educational and professional backgrounds during his successful run for Congress.
A complaint was made against Santos by a nonprofit campaign finance monitor, who claimed that he had broken numerous major campaign finance laws.
The Campaign Legal Center charged Santos with misusing campaign funds for personal needs, violating obligatory disclosure laws, and concealing cash through a straw donor scam.
Santos has acknowledged making up details of his personal history, such as his educational background, employment history, and religion.
Joe Murray, Santos's lawyer has yet to comment on the situation.
House Speaker Kevin McCarthy (R-Calif.) and other members of the GOP leadership have generally kept quiet when it comes to Santos' alleged fabrications,
"This is something that's being handled internally. we're going to have to sit down and talk to him about it." House Majority Leader Steve Scalise (R-La.) said at a press conference on Tuesday.