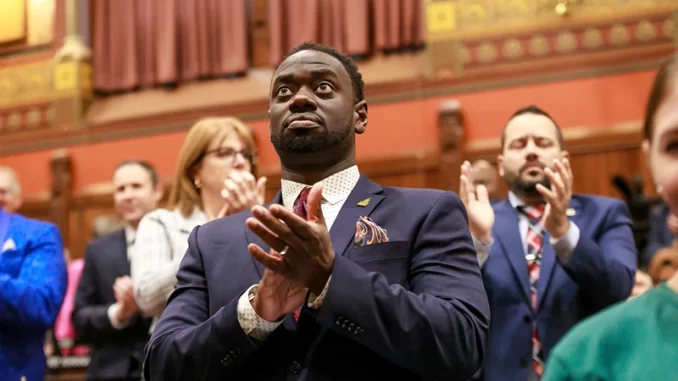 OAN Annytama Bhomik
UPDATED 12:22 PM PT – Friday, January 6, 2023
Connecticut State Representative, Quentin Williams, was killed when a wrong-way driver crashed head-on into his vehicle Thursday morning.
The rising political star was returning home from the Governor's inauguration ball just hours after he was sworn-in for a third term. The sudden demise of the newly appointed co-Chairman of the General Assembly's Labor and Public Employees Committee left all his friends and family in shock. He left behind his mother who works at the state psychiatric hospital in town.
The 39-year-old was the first African American to represent Middletown in the General Assembly.
"Representative Williams truly embodied the phrase larger than life. His laugh, smile, and presence were felt in every space shared with him. His passing is a true loss for our community. A light has been dimmed today," Mayor of Middletown, Ben Florsheim, said in a statement.
State Police officials stated that the 27-years-old wrong-way driver, Kimede Mustafai was driving from Manchester, Connecticut along the Route 9 in Cromwell. Williams drove shortly after 12:30 a.m. about 14 miles south of Hartford where he met with the collision. It was reported that no further parties were involved.
State Senator Matthew Lesser (D-Conn.) told the Associated Press in an interview.  "I was so proud of him and his incredible accomplishments and had so much hope for what he was yet to do." 
Williams had been a close friend of Lesser's for a long time, giving him the moniker, "Q."
The committee was supposed to convene for the first time on Thursday. However, following the news of Williams' passing, legislative leaders declared they had shut down the state Capitol and Legislative Office Building and delayed all legislative proceedings until Monday.
Connecticut Democrats Democratic House Speaker Matt Ritter (D-Conn.) accompanied by the House Majority Leader Jason Rojas, announced Williams' death on behalf of the late lawmaker's family in a public statement.
"I am in shock. Q was my dear friend and I am scarred by his sudden loss. We will have time to reflect on Q as a legislator in the weeks to come, but right now I deeply mourn my friend and send all of my love to Carrissa, Queen and Q's family. We will all miss Q," Ritter said.