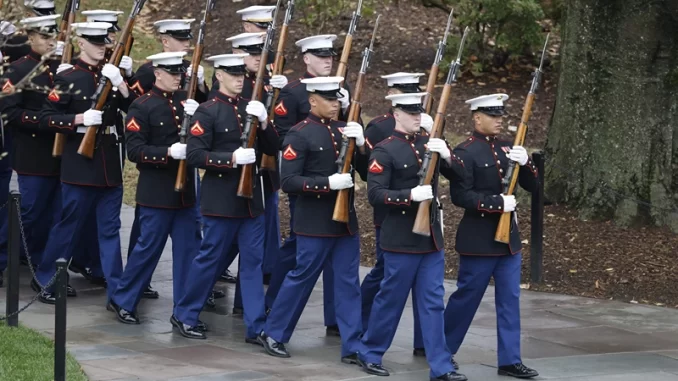 OAN Shannon Kellan
UPDATED 4:17 PM PT – Thursday, December 22, 2022
The United States Marines Corp is being encouraged to have recruits stop calling drill instructors the traditional "sir" and "ma'am," to be more gender inclusive so that no individual feels "mis-gendered."
This initiated from a new $2 million academic report commissioned by the Corps from the University of Pittsburgh on gender-integration.
This study began in 2020 and is whopping 738 pages long. The report stated that traditional ways of addressing superiors were holding back gender integration.
"By teaching recruits to use gender-neutral identifiers for their drill instructors, Services underscore the importance of respecting authoritative figures regardless of gender," a report wrote.
The study also concluded that female drill instructors were sometimes treated as less important compared to the male instructors. That is why it is being suggested to remove "sir" and "ma'am" and favor just the neutral title "drill instructor."
The report also suggested that recruits can address superiors by their rank or role followed by their last name.
Chief of Staff for the Marine Corps Training and Education Command, Colonel Howard F. Hall, had said that "it's not something we would change overnight," because it is not a "quick fix."
There has been some pushback in initiating this and many social media users have made a joke out of it.
The report focused on how the Marines allegedly used a lot of masculine langue to uplift male Marines, while ignoring female counterparts.
The study highlighted that there are many areas of service that are more male-dominated. Only 4.3% of officers and 5.1% of those enlisted in active duty are reportedly female.
To add, sexist behavior, jokes and training material were called out for often using male pronouns even for positions held by females.