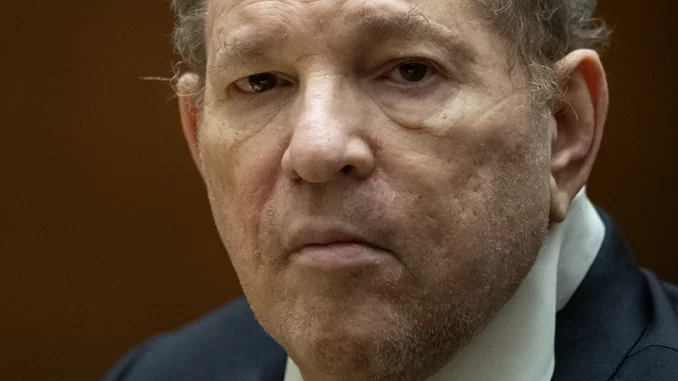 OAN Newsroom
UPDATED 5:38 PM PT – Monday, December 19, 2022
Former movie producer Harvey Weinstein was found guilty of 3 out of 7 charges at Los Angeles trial on Monday. Prosecutors claimed that he used his Hollywood influence to entrap women into private meetings and assault them.
Weinstein was initially on trial for 11 counts including two counts of forcible rape and five counts of sexual assault. The prosecution dropped 4 charges from Jane Doe No. 5 which were two counts of forcible rape and two counts of forcible oral copulation.
The mogul is currently two years into a 23-year sentence for similar charges of rape and sexual assault in New York.
"It is time for the defendant's reign of terror to end," Deputy District Attorney Marlene Martinez said.
The besmirched producer was found guilty of forcible oral copulation, rape, and sexual penetration via a foreign object on Monday. The jury was composed of 8 men and 4 women. It took the jury nine days of deliberation to reach this verdict.
There was a hung jury on several counts, notably charges involving Jennifer Siebel Newsom, the wife of California Governor Gavin Newsom (D-Calif.).
"Harvey Weinstein will never be able to rape another woman. He will spend the rest of his life behind bars where he belongs," Siebel Newsom said in a statement.
Weinstein was found not guilty of one count of sexual battery by restraint, one count of forcible oral copulation and one count of rape.
Weinstein's attorney Alan Jackson, in his closing argument did not liken rape to regret.
The trial had closed with a statement from Attorney George Gascón who thanked the survivors following the verdict.
"I stand in awe of their fearlessness," Gascón said. "They deserve better than what the system has given them."