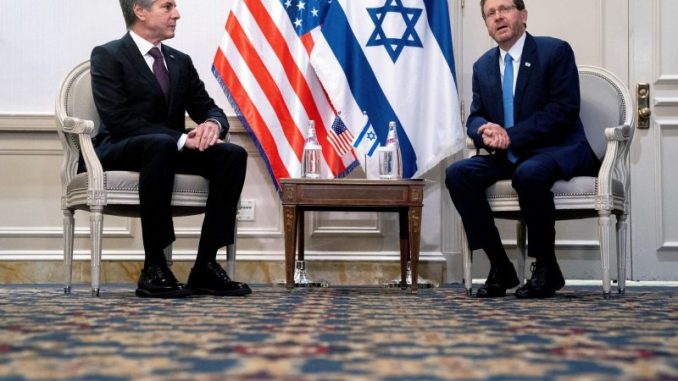 OAN Newsroom
UPDATED 12:05 PM PT – Wednesday, October 26, 2022
Secretary of State Antony Blinken has met with the President of Israel.
On Tuesday, Israeli President Isaac Herzog kicked off his two-day visit to Washington.
Blinken said that Herzog's trip is a powerful symbol of the "enduring partnership" between the United States and Israel. He added that violence in the West Bank and the ongoing protests in Iran would be among the topics for discussion.
The Israeli President said he would be exposing the use of Iranian weapons against civilians in Ukraine.
"I want to thank this administration, yourself and your team for pursuing the border deal, the maritime border deal between Israel and Lebanon," Herzog said. "I want to thank you for your support of Israel in the international forums. We will be discussing, you and I, as well as my discussion with the administration, the challenges that Iran poses to us and to humanity at large."
Herzog is scheduled to meet with National Security Adviser Jake Sullivan and U.S. President Joe Biden on Wednesday.