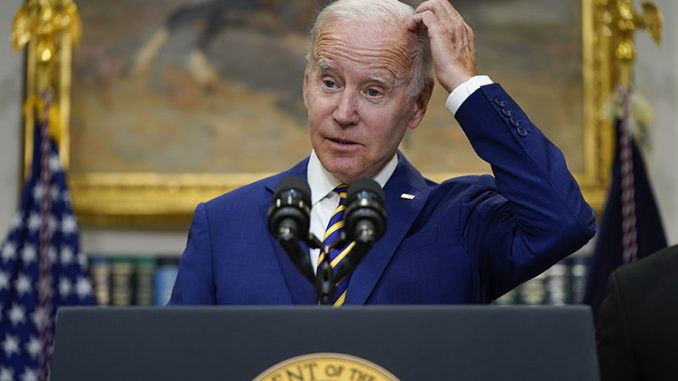 OAN Newsroom
UPDATED 3:10 PM PT – Tuesday, September 27, 2022
Joe Biden announced new steps to bring down the cost of living under his economy. He seemingly conceded that Americans are struggling economically under his watch. Speaking to reporters Monday, Biden said that he has consulted with his competition council to get rid of what he describes as junk fees. These include overdraft fees on people's checking accounts or their credit card payments plus processing fees for online payments.
"This council is going to come back to me with a plan for eliminating these fees. Families shouldn't have to pay these fees. No one's sneaking surprise charges into bills, like a $55 processing fee for a hotel room that you're trying to book. A processing fee. You find out later. No more hiding the price that you're paying. Now you're going to know what the prices are. And all, it's all taking money out of the pockets of average Americans."
However, he proceeded to take a victory lap on his own economic performance claiming people are seeing increased incomes and that unemployment has dropped significantly.
Analysts disagree, saying that Americans have lost over four thousand dollars in their annual income since Biden took office.
Additionally, consumer prices have gone up by 12 percent since January of 2021 which has stripped buyers of at least three thousand dollars in purchasing power.
"Here's what I want the American people to know: because of the resilience, the American people's resilience, and because of the economic strategy we pursued, the united states of America is in a stronger position than any other country to navigate these global challenges. Period. Jobs are up, incomes are up. People are back to work. And American manufacturing is roaring back. Excuse me for the cough. We're taking inflation very seriously by enacting policies to bring down costs for people."
Biden then went on to tout his progress in bringing down the pain at the pump after it was reported that gas prices dropped by at least five cents.
The national average gas price currently sits around three dollars and 70 cents per gallon according to the latest numbers from AAA.
This should not be a point of celebration as gas prices remain more than a dollar and 30 cents higher than when he took office.
"In addition to that, a big part of how we're going to keep making progress is by increasing competition in the economy. That's why we have the competition council here, and it starts with energy prices. We've made historic progress. We've made historic problems with the price of gas down in dollar versus the some in some states is below three bucks."
In the meantime, a recent poll shows 74-percent of lower-income Americans are feeling the pressure from Bidenflation.