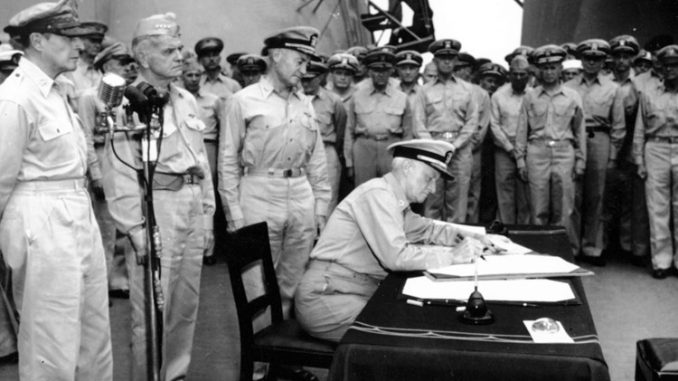 OAN Newsroom
UPDATED 11:54 AM PT – Friday, September 2, 2022
77-years ago today, President Harry Truman declared September 2nd V-J Day as Japan formally surrendered resulting in the end World War II.
While scenes of Japan in World War II recalled images of Iwo Jima, there was no warfare in the Tokyo Bay on this day in 1945. Instead of picking up weapons, representatives only picked up pens to formalize Japan's surrender to allied forces.
The Battle of the Pacific had tilted to allied favor in the summer of 1945. In June, Americans forces captured Okinawa. In August, the United States dropped a pair of atomic bombs on two Japanese cities. On August 15th, Japan's Emperor went on national radio to announce his surrender. The US accepted the surrender and set September 2nd as the day for a formal surrender ceremony.
On this day in 1945, 250 allied warships anchored in the Tokyo Bay as representatives from 10 countries boarded the USS Missouri as General Douglas MacArthur gave an opening address.
"We are gathered here, representatives of the major warring powers, to conclude a solemn agreement whereby peace may be restored," General Douglas MacArthur said.  
At 9:05 local time, Japanese Foreign Minister Mamoru Shigemitsu was the first to sign. General MacArthur gave his autograph at 9:08. Nine more representatives would sign and in less than 20 minutes six years of world war finally came to a complete close.
While many Americans celebrated after the Emperors surrender in mid-August, President Truman officially declared September 2nd as 'Victory in Japan Day' as World War II — the bloodiest conflict of the 20th century — officially came to a close.