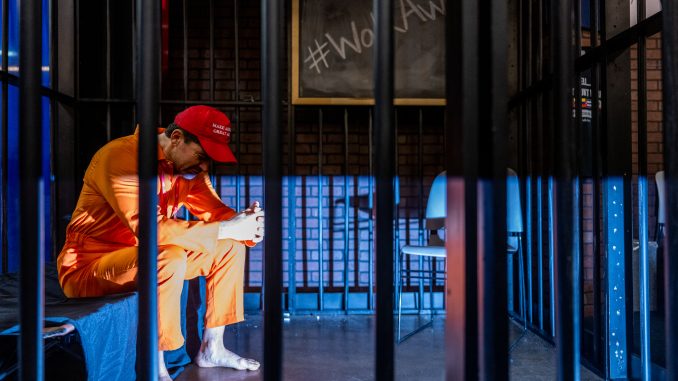 Neil W. McCabe, National Political Correspondent
UPDATED 3:55 PM PT – Friday, August 26, 2022
DALLAS Conservatives at the CPAC held in Dallas, got a unique glimpse into the suffering of Jan. 6, participants targeted by federal law enforcement when WalkAway Campaign founder walked through the halls and exhibits in an orange jumpsuit as if in custody—leading a crowd to a jail cell.
"I think that most people in the conservative movement through no faults of their own, don't really fully understand what's happening to their own fellow citizens," said Brandon Straka, who started his movement for disgusted Democrats after President Donald J. Trump was elected, and he saw how the media and Democratic leaders misrepresented him.
"These J6 investigations and FBI raids and overcharging and abuse from the judicial system, which is totally out of hand. I mean, totally, totally out of hand," Straka said.
The former professional hairdresser said he went to the Capitol that day after friends texted him about what was going on and he wanted to see it for himself, but he never actually entered the building.
"I walked up the steps, the doors were open and I stood there for eight minutes and I filmed people entering the building, and I uploaded the video that I shot to Twitter, you know, not really thinking much of it," he said.
"Then, about two and a half weeks later, uh, the FBI raided my house, and I was charged with multiple felonies," he said.
"I was taken to jail over what ultimately ended up being a misdemeanor charge," Straka said.
"They took me in, I was made to take all my clothes off in front of a stranger who took my clothes away and brought me back an orange jumpsuit—and when I put it on, I looked down at myself and the first thing I felt was just complete shame," he said.
During his more than one hour behind bars in the cell next to the WalkAway CPAC booth, Straka received a surprise visit from Micki Witthoeft, Ashli Babbitt's mother who joined him in the cell.
The unarmed Babbitt was shot and killed Jan. 6, 2021, in the hallway outside the Speakers Lobby by a Capitol Hill police officer.
Witthoeft said she admires Straka and she is grateful for his advocacy for all the J6 families.
"It's been a life-altering experience, not just for me, but for so many people for Brandon, for his mom, for his dad, for, for everyone around him. You know, and, and that's true of every Jan. 6 family it's touched him in, in such an awful way," she said.
Straka accepted a plea deal for one misdemeanor count, and a punishment that included a $5,000 fine, and three years probation, but he said he knows many of the J6 defendants got worse than him.
"Jan. 6, at this point, has almost come to represent the left's narrative as a large hammer to pound conservatives down with," he said.
"I think that through the process of that politicization, the prisoners have been, have been forgotten."