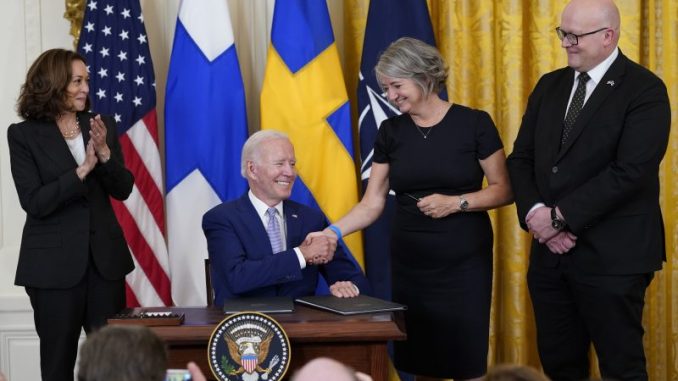 OAN Newsroom
Updated 3:20 PM PT – Wednesday, August 10, 2022
Thanks to Joe Biden, Sweden and Finland are inching closer to becoming part of NATO. In his latest attempt to spite Russia amid the Ukraine crisis, President Biden moved to bolster the geo-political power of NATO.
On Tuesday, the President signed instruments of ratification for the ascension protocol that showed the US government's support for the countries joining the Cold War-era military pact. This makes America the 23rd country to approve of Sweden and Finland's inclusion into NATO. Biden claimed the countries' contributions to fending off shared threats would be tremendous.
Finland and Sweden's decision to join NATO is a watershed moment for our Alliance.

It will help ensure greater security and stability for our world.

— President Biden (@POTUS) August 9, 2022
This comes amid his administration's push to tip the scales of the Ukraine conflict in favor of the Zelensky regime as it's leading the west to punish Russia.
"Together, we committed to the United States, Finland and Sweden would continue to remain vigilant against any threats to our shared security and deter any confrontation and confront any aggression or threat of aggression that might come up. And I urge the remaining allies to complete their own ratification progress as quickly as possible," Biden said.
After Turkey's objections were flipped in June, other NATO nations have been quick to take similar measures. In the month of July, all 30 ambassadors to NATO signed ascension protocols. In the US last week, the Senate voted 95-to-one in favor of ratification. Member states hope the move enhances their strategic position against Russia. Finland's inclusion would give NATO extra territory along the Russian border.
Additionally, Biden hopes America's leadership in NATO's fight against Russia will boost its image on the international stage, especially after his administration suffered a string of foreign policy failures. Critics say those failures have weakened America's role as leader of the free world.
"We're showing the world the United States of America can still do big things," the President remarked. "This nearly unanimous bipartisan ratification sends another important message. The United States is committed, the United States is committed to the transatlantic alliance. Together with our allies and partners, we're going to write the future we want to see, the future we want to see. And in a moment, when Putin's Russia is shattered, peace and security in Europe, when autocrats are challenging the very foundations of a rule-based order, the strength of the transatlantic alliance and America's commitment to NATO's is more important than has ever been. "
Josh Hawley (R-Mo.) was the lone senator to vote against the ratification. He argued that the move served Finland and Sweden's interests and not America's.
Hawley stressed that accepting Finland and Sweden into NATO would result in additional American troops being sent away to more territory in Western Europe. He claimed that would satisfy Washington's nation building efforts, which aims to establish a new liberal order.
He further warned that America has a more imminent adversary creeping in on America's economic and national security — the Chinese communist party.
The stark truth is, if China invaded Taiwan today, we almost certainly couldn't stop them. But by all means, let's expand NATO and commit more troops to Europe https://t.co/eSbs6FJQXE

— Josh Hawley (@HawleyMO) August 4, 2022
"This would be a world in which the Chinese government and its proxies would touch every aspect of our lives," explained Hawley. "From Chinese goods dominating our markets, to the Chinese propaganda flooding our airwaves, to Chinese money and influence corrupting American politics. This would be a world in which China would be free to expand its use of slave labor and to double down on its global campaigns of repression. That's the world that Beijing wants, and the truth is we are not now in a position to stop them."
Other critics echoed sentiments that expanding NATO would drain American resources.
Earlier this year, former Texas congressman and presidential candidate Ron Paul (R-Texas) wrote an op-ed explaining why he voted against letting Georgia and Ukraine into NATO back in 2008. He said not only would this have forced America to add troops to these countries, but it would not have served America's national interests at all. Paul further warned that flirting with the idea of letting Ukraine into NATO would only deepen tensions between the west and Russia.
Vladimir Putin and other top Russian officials recently stressed that one of the reasons they built up Russia's military presence on its border with Ukraine was due to fearing that NATO was encroaching on its western border through Ukraine.
Meanwhile, Putin said while he doesn't fear any political problems stemming from Finland or Sweden joining NATO, he admits there is a potential military threat.
"In this sense, therefore, there is no direct threat to Russia in connection with NATO's expansion to these countries. But the expansion of its military infrastructure to these territories will certainly evoke a response on our part," said Putin. "We will see what it will be like based on the threats that are created for us."
In the meantime, seven more NATO members have to approve their ratification protocols in order to officially let Sweden and Finland into the pact. Additionally, those member states, led by America, are continuing to pump billions-of-dollars behind Ukraine's military. While doing that they are adding sanctions to Russian officials, Russian citizens and Kremlin-linked businesses.