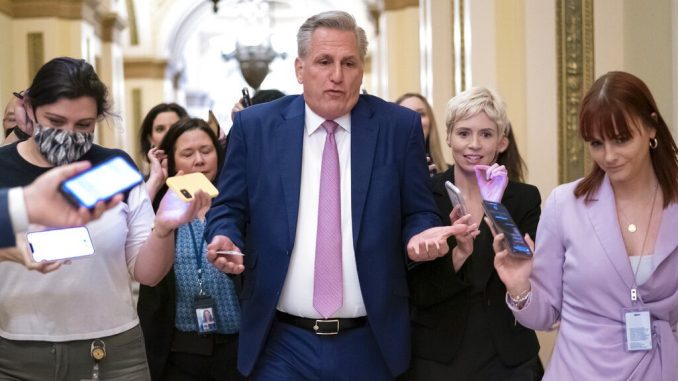 OAN NEWSROOM
UPDATED 12:25 PM PT – Thursday, May 12, 2022
The January 6 Committee issued a round of subpoenas against five Republican lawmakers. In a statement Thursday the Democrat-controlled panel said it has subpoenaed GOP leader Kevin McCarthy (R-Calif.) and congressmen Jim Jordan (R-Ohio), Scott Perry (R-Pa.), Andy Biggs (R-Ariz.) and Mo Brooks (R-Ala.).
The committee has claimed those particular Republicans have information relevant to their probe into the US Capitol protest. Meanwhile, members of the GOP have repeatedly criticized the committee's actions as "partisan" and "illegitimate." Specifically, Rep. Marjorie Taylor Greene (R-Ga.) has suggested the left is trying to weaponize the events of January 6 against the GOP as a whole.
On the other hand, Rep. Adam Kinzinger (R-Ill.) has previously slammed Americans who question the integrity of the 2020 election, including Rep. Greene. He claimed they won't be looked at positively in history.
As we work to provide answers to the American people about that day, we consider it a patriotic duty for all witnesses to cooperate.

We urge our colleagues to join the hundreds of individuals who have shared information with the Select Committee.

— January 6th Committee (@January6thCmte) May 2, 2022
The January 6 Committee has called on the Republicans to comply with these subpoenas after some of them defied similar motions in the past. The panel is expected to hold a hearing next month, which it claims will provide members the opportunity to discuss these matters.
One America's Pearson Sharp has explained that the narrative surrounding this day may be nothing more than a tool for those on the left to exert more power over the American people. The questions is: has it been weaponized and used against 45th President Donald Trump and his supporters?