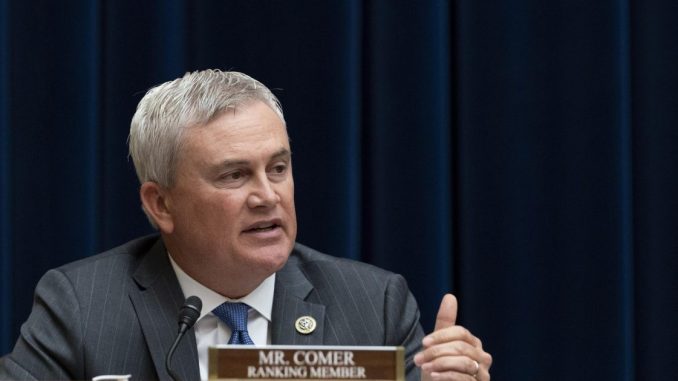 OAN NEWSROOM
UPDATED 1:47 PM PT – Wednesday, May 11, 2022
Congressman James Comer (R-Ky.) said Hunter Biden poses a national security risk due to his business ties in China, Russia and Ukraine. In an interview Monday, the Kentucky Republican said Hunter Biden was taking money from companies tied to the Chinese Communist Party and he received payments from at least two wealthy Russian businessmen.
The congressman then pointed out that those two Russians were mysteriously left off of the Biden administration's list of anti-Russian sanctions. Comer added, the US Congress must investigate the "Biden family scandals."
"We have asked for information from the White House as to why this omission from the two people that we know transacted money to Hunter Biden's account," explained the Kentucky lawmaker. "So, this is a national security risk and maybe the reason is because Hunter Biden is compromised, and therefore, Joe Biden is compromised with some of these Russian oligarchs and some of these shady communist China companies."
Congressman Comer also said Hunter Biden's business model involved giving favors to foreign partners at the expense of US national interest. Looking ahead, if the GOP takes the House in November, Republicans suggested they are now considering a special council to further analyze Hunter Biden's shady business dealings.
"I really believe that the House Oversight Committee, along with the House Judiciary Committee and some other committee's of jurisdiction that have subpoena power, I believe that we can make a big dent into all of the Hunter Biden scandals," Comer continued. "We've made a lot of progress in the last few months piecing together not only the proof that Hunter Biden was selling access to then-Vice President Joe Biden, but now proof that, in fact, Joe Biden was not being fruitful and that he was very close with at least one of Hunter Biden's business associates: Erick Sherwin."
🚨🚨

Oversight Democrats have scheduled ZERO hearings this week.

Skyrocketing inflation, rising gas prices, and the border crisis are only getting worse.
@RepJamesComer calls for the Oversight Committee to get back to its mission and hold the Biden Admin accountable. pic.twitter.com/eVevchFoWw

— Oversight Committee Republicans (@GOPoversight) May 11, 2022
The congressman added, there's still many questions left to be answered. Comer is primed to be chairman of the committee on Oversight and Reform after the expected Republican takeover of the House come November.