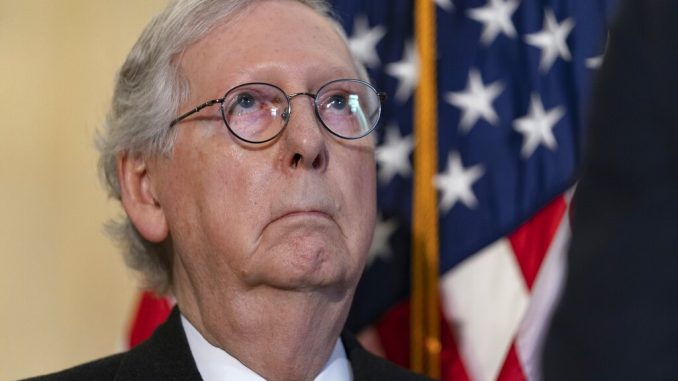 OAN Newsroom
UPDATED 12:10 PM PT – Tuesday, March 29, 2022
GOP lawmakers are decrying yet another massive spending proposal from the Biden administration. On the Senate floor Monday, Senate Minority Leader Mitch McConnell (R-Ky.) warned Joe Biden's nearly $6 trillion budget proposal for fiscal year 2023 is just another far left wish list.
McConnell stressed he called on the President to pivot his economic agenda toward the center to create policies that would benefit the average American. However, he claimed Biden has not listened to his advice and is looking to bolster Democrat-friendly federal agencies and punish American energy producers. Additionally, the Kentucky Republican lamented that Biden's increase of the defense budget by only 4 percent will leave the U.S. military "treading water."
"They want to pour money into absurdities like the UN green climate fund, borrow from China to fund a global bureaucracy that will hand free money back to China," he explained. "There's plenty of money for things like anti-gun regulations, free lawyers for illegal immigrants and something called environmental justice. This whole far-left feast leaves out the reckless taxing and spending spree that Democrats failed to pass last year are are now trying to revive."

Other GOP lawmakers further sounded the alarm on what Biden's budget would do to the already dire economic and supply crises. Missouri Representative and Ranking Member of the House Budget Committee, Jason Smith stressed Biden's proposal would add $15 trillion to the national deficit. Smith went on to point out Americans are already suffering from a $3,500 inflation tax and Biden would add $8 million to the federal spending limit. He asserted this will only hurt American families and job creators.
Additionally, several Republicans, including Arizona Representative Andy Biggs and Alabama Senator Tommy Tuberville, condemned Biden for not addressing pressing issues like border security and cracking down on fentanyl distribution in the U.S.
"We don't need a bureaucrat talking point or a bureaucrat wasting our time," Tuberville stated. "We need a plan and we need a plan now to stop these drugs. Since President Biden has been in office, he has failed to take charge in every situation. Sadly, the drug overdose epidemic is no different."
Meanwhile, Kentucky Senator Rand Paul said the current inflation crisis is indicative of several Democrat economic strategies, including deficit spending and promising free programs to Americans while making retired and poor Americans front the bill. However, Paul remained optimistic that America's financial institutions are strong enough to prevent hyperinflation and reverse the economy from heading to disaster.
If not, economists have warned inflation will only get worse. They also warned that if the Federal Reserve doesn't act quickly, the U.S. is likely headed for a recession.