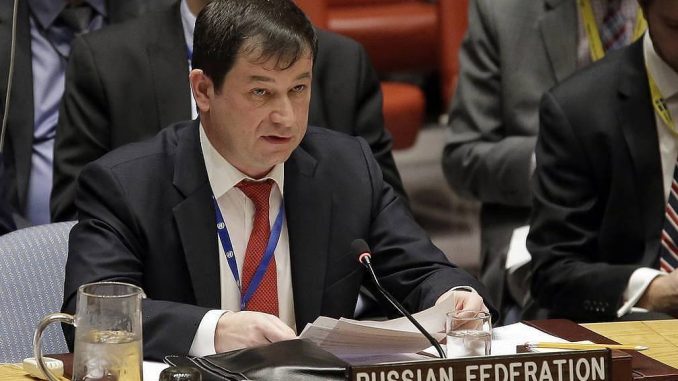 OAN Newsroom
UPDATED 8:15 AM PT – Wednesday, March 23, 2022
Tensions escalated at the United Nations over a resolution to the invasion of Ukraine as ambassadors sparred with one another. South Africa submitted their own resolution to the conflict, which was met with heavy criticism due to its similarities with a resolution proposed by Russia. Despite this, South Africa remains steadfast that their version has no relation to its Russian predecessor.
"The South Africans have tabled a text which does call for a cease fire, but at the moment doesn't attribute any responsibility for the causes of the humanitarian crisis," stated U.K. Ambassador, Barbara Wood. "Now I know that OCHA and humanitarian organizations around the world are doing all they can to resolve it, but there's no point in the UN perpetrating this without being clear, I think, about the cause of the humanitarian crisis. So we're all discussing now with the South Africans, you know, how we can come to a text that would command widespread support across the General Assembly without having to have two votes on texts, essentially, which want the same thing."
Among those critical of the resolutions put forth by Russia and South Africa is U.S. Ambassador, Linda Thomas-Greenfield. Her main criticism of South African proposal is the lack of any mention of holding Russia accountable for their actions in Ukraine.
"Russia is the cause of the humanitarian crisis," stated Thomas-Greenfield. "The other two resolutions, one put forth by Russia and the other put forth by South Africa, does not identify the cause of the crisis. And again, it would be, as I've said before, like the arsonists calling for the neighbors to help him put out the fire that he started in one neighbor's house. Russia is the aggressor here and it is absolutely unconscionable for Russia to think that they can put forward a humanitarian resolution."
Meanwhile, Russian Deputy Ambassador, Dmitry Polyanskiy accused western nations of being hypocritical if they refuse to support their draft when the General Assembly moves to vote on a resolution.
"Well, I think that if Western nations do not support our draft, this is just a reflection of the hypocrisy because one thing is to speak about these things and the other thing is to make a decision," he asserted. "Everybody understands that in order to help humanitarian agencies, the Security Council has to say its position and to give them some instructions. That's what we are proposing to do, without any politicization as any other humanitarian resolution adopted ever by the Security Council. And that's why we don't understand why people would be saying one thing and acting in absolutely another way."
A vote on which resolution will be adopted by the organization is set for this week.