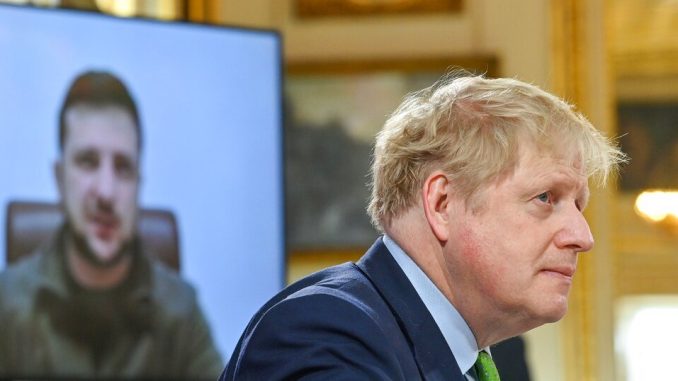 OAN Newsroom
UPDATED 10:00 AM PT – Tuesday, March 15, 2022
Ukrainian President Volodymyr Zelensky spoke with a group of European prime ministers, urging them to provide more support against the ongoing invasion.
Zelensky virtually addressed Joint Expeditionary Force leaders Tuesday, warning them Russia is targeting more nations and Europe will be in peril if his country falls. The Ukrainian leader stressed his forces need more fighter jets among other forms of aid.
The group, which includes British Nordic and Baltic nation leaders, is meeting in London for a summit on defense and security. U.K. Prime Minister Boris Johnson said the nations have a duty to help Ukraine and praised the Ukrainian people for fighting for their sovereignty.
"I think already it is clear that (Vladimir) Putin has gravely miscalculated," Johnson asserted." He's underestimated the heroism and determination of the Ukrainians to resist under President Zelensky. I think he's also gravely underestimated the unity of the West, which is expressed not least in this meeting today."
Johnson also called out Russian forces for bombarding innocent civilians and firing on population centers. The British primer minister suggested Europe hasn't seen such brutality since WWII.
Meanwhile, the United Nations hs ramped up humanitarian assistance for Ukraine. On Monday, the UN announced it will allocate $40 million in aid towards those affected by Russia's invasion of Ukraine.
2 million people have fled the war in Ukraine.

This is now the fastest growing refugee crisis in Europe since World War II.

UNHCR is working to provide humanitarian aid to those in need.

You can support their efforts: https://t.co/fPXMh4H71T via @Refugees pic.twitter.com/2YSmVdGMPP

— United Nations (@UN) March 8, 2022
The funds will include critical supplies of food, water, medicine and cash assistance to nearly 2 million displaced residents. The UN noted the funds are critical to a fast and flexible response on the ground in Ukraine. The move follows the organizations initial $20 million allocation issued at the start of the invasion last month.