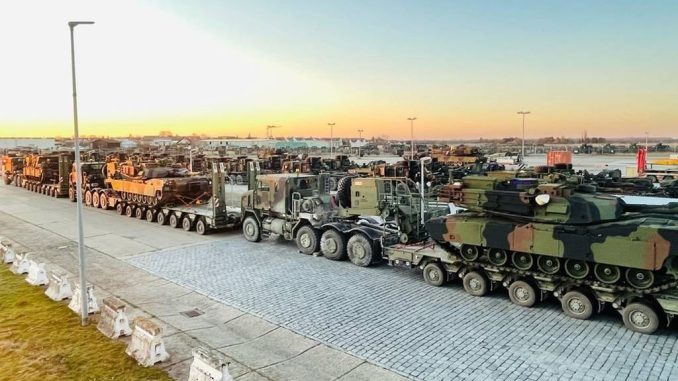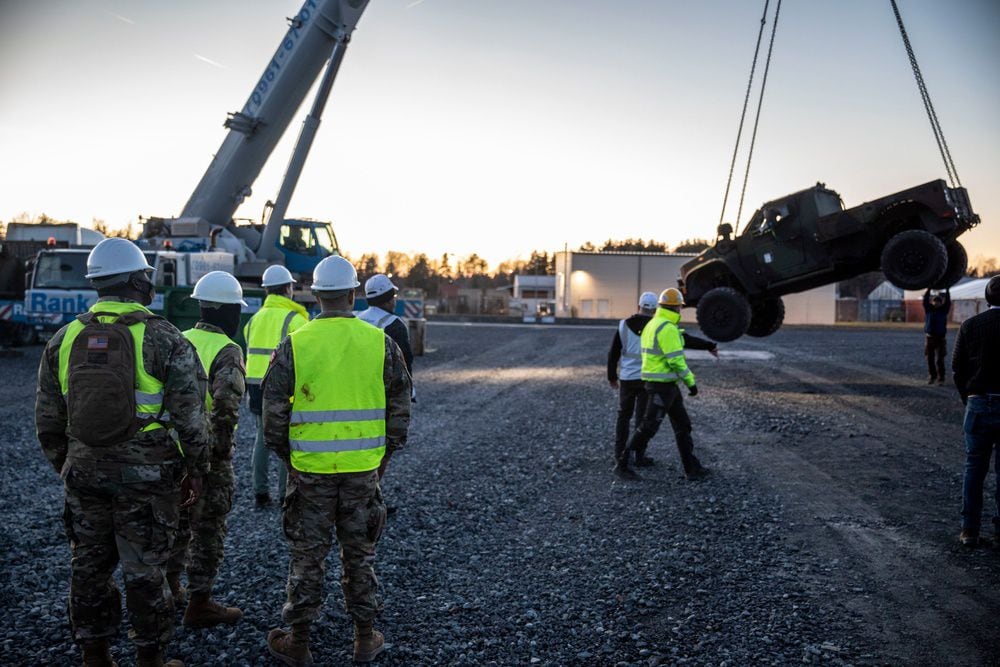 The 1st Armored Brigade Combat Team, 3rd Infantry Division soldiers deploying to Germany in response to the activation of the NATO Response Force are being outfitted with thousands of vehicles and equipment pieces from Army Prepositioned Stocks-2 for the first time in the program's history.
Army Prepositioned Stocks-2 are stock piles of equipment and gear waiting for rapidly mobilized units to tap into during international military crises. And for the first time in the 405th Army Field Support Brigade's APS-2 program history, the unit was tasked with outfitting an entire brigade as soldiers from Fort Stewart, Georgia, deployed to Europe in the past few days.
Prepositioned equipment and rations is a Cold War-era idea that would have helped U.S. forces rapidly respond to a Soviet assault in West Germany without having to wait on their own units' shipments of gear.
It was a "break-glass" type of preparation. Soldiers would only touch the stocks in case of war, which is why the utilization of APS-2 in the conflict between Ukraine and Russia is historic; It signifies the seriousness of the invasion and the ramifications it may have for Europe and U.S. military members stationed and deployed to the region.
Soldiers from all four battalions of the 405th AFSB worked tirelessly in the first few weeks of February to prep their respective APS-2 sites as tensions with Russia escalated.
"We've put a lot of work into planning this out to the smallest of details, and all this planning is helping to make this operation successful," said Col. Brad Bane, commander of the 405th AFSB. "I'm very proud of our entire team. They're working tirelessly to execute this complex, no-notice mission."
Most of the equipment and vehicles currently being drawn are coming from the Coleman work site under the command and control of Army Field Support Battalion-Mannheim. Equipment and vehicles from the ASP-2 draw are in the process of being delivered and handed over at the Grafenwoehr Training Area.
Nearly 7,000 soldiers from Fort Stewart, Georgia, were mobilized Feb. 24 in the immediate wake of Russia's invasion of Ukraine. Additional troops in transportation and fire support units also stood up after the response force was activated.
"We are grateful to our allies Canada and the United States for their recent commitments to deploy an additional 7,460 troops, including an armored brigade combat team, artillery units, a naval frigate, and surveillance aircraft, to support this Alliance-wide effort," Air Force Gen. Tod Wolters, head of U.S. European Command and the supreme allied commander of NATO in Europe, said in a Friday statement.
U.S. troops will be assigned to NATO support missions outside of Ukraine as needed. They will join the thousands of troops already spread across Germany and the Baltic states, including Poland, Romania and Hungary.
Included in the equipment issue are tracked vehicles like the M1 Abrams main battle tank and M2 Bradley fighting vehicle. Also included are Paladins, generators, Joint Light Tactical Vehicles and more.
Additional equipment from APS-2 will be sent commercially from Mannheim to Grafenwoehr.
"The execution of APS-2 ECHA operations is a complex and challenging task that truly requires a robust team effort to ensure mission success," AFSB-Germany commander Lt. Col. Rebecca Milkowski said in an Army press release.
The task of organizing and issuing APS-2 was a multi-unit effort, Milkowski said. She cited support given by U.S. Army Garrison Bavaria, 7th Army Training Command, 624th Movement Control Team, 16th Sustainment Brigade, 409th Contracting Support Brigade, 21st Theater Sustainment Command and U.S. Army Sustainment Command.
"It is incredible to see so many diverse organizations come together to enable our team to rapidly receive, stage and issue an ABCT's worth of equipment to 1st ABCT, 3rd Inf. Div. in support of operations here in Europe," Milkowski said in the release.
More than 600 pieces of equipment were initially drawn from the 405th AFSB's APS-2 sites in early February, and sent forward to U.S. forces already augmenting military missions in Eastern Europe.
Thousands of pieces of equipment will continue to be drawn and shipped to Grafenwoehr to support 1st ABCT soldiers as their European deployment progresses.
Rachel is a Marine Corps veteran, Penn State alumna and Master's candidate at New York University for Business and Economic Reporting.