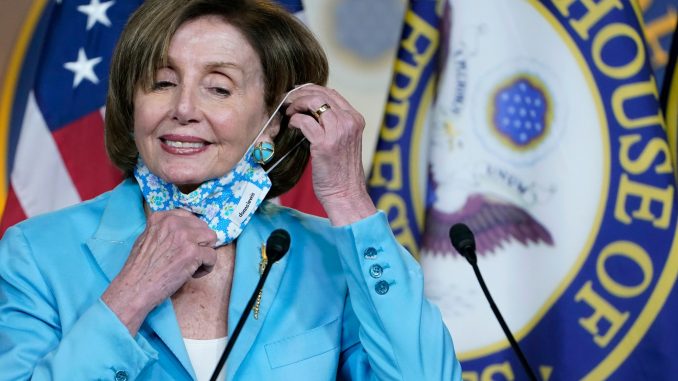 OAN Newsroom
UPDATED 8:29 AM PT – Monday, February 28, 2022
The Democrat-controlled House of Representatives lifted its mask mandate ahead of Joe Biden's State of the Union address. The Office of the Attending Physician said lawmakers and their staff will no longer have to wear face masks due to a "low level" of COVID transmission. However, those who test positive for COVID or have symptoms are still advised to wear masks.
And just like that: Nancy Pelosi cancels her pointless mask mandate in Congress so Biden can do the same in his speech on Tuesday.

Nobody is buying this.

— Rep. Darrell Issa (@repdarrellissa) February 28, 2022
Republicans have denounced mask mandates as "political theatre," adding Democrats are ditching masks to make Biden's address look good. This comes as the Capitol Physician's Office also promoted coronavirus vaccines, boosters and taking daily COVID tests at home.
So, Pelosi lifted the mask mandate in Congress one day before the President's SOTU. Ain't (political) science wonderful?

— Jim Wheeler (@Wheeler4Nevada) February 28, 2022
Meanwhile, Capitol Police reinstalled the inner-perimeter fencing around the Capitol Building ahead of Biden's State of the Union address. Chief Tom Manger shared a statement Sunday, saying the increased security measures were made in collaboration with the Secret Service.
Statement from Chief Tom Manger ahead of the State of the Union Address: pic.twitter.com/J645LV9i7e

— U.S. Capitol Police (@CapitolPolice) February 27, 2022
Chief Manger also said the move is out of an abundance of caution ahead of The People's Convoy, which is expected to descend on Washington, D.C. several days after Biden's address. Other security measures include establishing National Guard checkpoints around the city. Capitol Police assert the heightened security is to ensure the important work of Congress is allowed to go on uninterrupted.