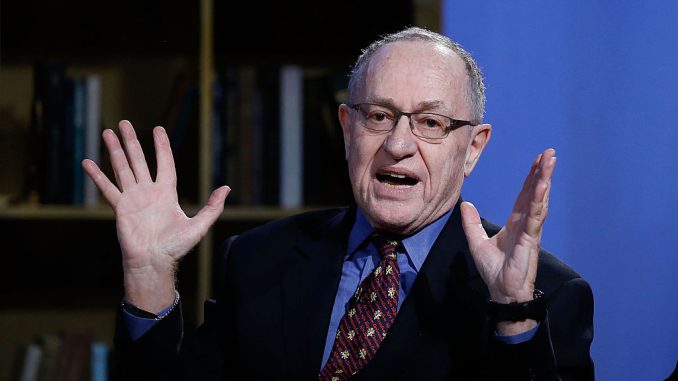 OAN Newsroom
UPDATED 12:24 PM PT – Tuesday, January 25, 2022
A Harvard Law professor compared the January 6 Committee to a tactic used in the 1950s to oust accused communists who had no actual ties to the party. Legal scholar Alan Dershowitz said the panel is not a valid congressional body and it's actually in violation of legislative rules.
"It reminds me a little bit of McCarthyism, where you had committees like the House Un-American Activities Committee, which didn't have an appropriate legislative purpose," he explained. "They were just trying to subpoena people for political and ideological purposes."
In a recent interview with Breitbart, Dershowitz said the panel is being used by Democrats to target political opponents similar to the witch-hunts of 1950s McCarthyism era. This refers to the vocal campaigns against alleged communists believed to be in federal institutions who would go on to be blacklisted or fired from their positions despite not having any real ties to communism.
Dershowitz added, former President Donald Trump's assertions of executive privilege are valid, but the Supreme Court has yet to affirm that.
"But what the Supreme Court has so far said, it hasn't decided the course and that is whether or not an incumbent president can deny the right of a prior president to assert executive privilege over conversations he had while he was in the office," he explained. "The answer to that should be clear and unanimous by the Supreme Court. Of course the former or old president has the right to assert executive privilege, otherwise privilege is meaningless."
Dershowitz went on to say actions of the January 6 Committee are eroding executive privilege, which may result in future presidents being unable to make urgent decisions. He warned the tough decision will be outlining which conversations fall under executive privilege and which don't.
The law professor added that the rulings made on a person by person document by document basis that the Supreme Court has been proceeding may ultimately challenge the court's legitimacy. However, Dershowitz admitted he's not completely unbiased when it comes to this subject.
"I'm involved in one such case, so I'm a little biased," said the law professor. "I'm representing the people from the MyPillow company who are subject to a subpoena and we are challenging that subpoena on a variety of grounds. And so, I'm not a neutral or constitutionally objective analyst when it comes to that. I don't want to put my own bias on the table."
Since the Supreme Court shot down Trump's request to bar the Democrat-led panel from receiving documents from his office, the select committee has obtained those materials. They have yet to make the documents public or even given an update on how far they have delved into them.
Dershowitz is not the first person to question the legitimacy of the panel with several raising concerns of the potential for political bias among its members.