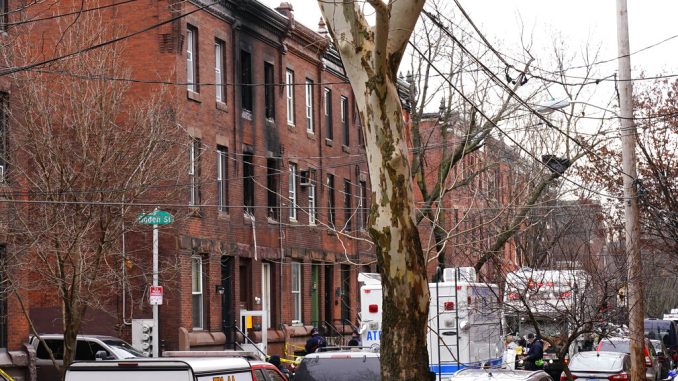 OAN Newsroom
UPDATED 10:00 AM PT – Thursday, January 6, 2022
Early Wednesday morning, firefighters arrived to a three-story Philadelphia duplex to find heavy flames coming from the second floor. Authorities said the number of fatalities is dynamic, indicating the number of those killed could change as the recovery continues, but confirmed eight children and four adults died in the tragic fire.
The victims range in age from two to 33-years-old. Officials added, eight people were able to escape by themselves while two others were transported to local hospitals. This is the deadliest fire the city has seen in more than a century.
— Philadelphia Fire (@PhillyFireDept) January 6, 2022
Philadelphia Mayor Jim Kenney said he and the firefighters will be mourning the lives lost for a while.
"This is without a doubt one of the most tragic days in our city history," he noted. "The loss of so many people in such a tragic way…please keep all these folks and especially the children in your prayers. Losing so many kids is just devastating"
The Philadelphia Housing Authority mentioned there were 26 people living in the building; eight living on the lower unit and 18 on the second and third floors. Although the agency was unaware of the 26 people living in the building, they stressed this many people under the same roof was not appropriate. However, Kenney defended resident's by stating some people just need a roof over their heads.
Investigators said there were four smoke alarms in the building, but not one operated. They added, the last inspection was in may of 2021 and, at the time, all of the detectors worked.
Meanwhile, Philadelphia Fire Department Deputy Commissioner Craig Murphy believes the fire started at the front of the second floor where oxygen fed the flames, making it nearly impossible to escape. Murphy emphasized the blaze is one of the deadliest he's seen in roughly 35-years.
Officials said efforts to ensure everyone inside the building has been accounted for remains ongoing as an investigation into the cause of the fire is underway.