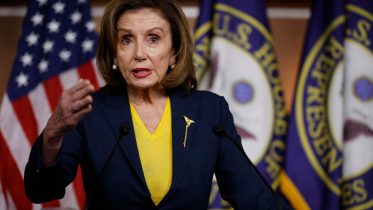 OAN Newsroom
UPDATED 12:41 PM PT – Thursday, December 16, 2021
Americans are reaping what the "defund the police" movement has sown.
In a press conference on Wednesday, House Speaker Nancy Pelosi (D-Calif.) commented on the rise in crime throughout many of America's major cities. The California Democrat said the problem is impossible to miss, but refused to admit the left's police funding cuts and bail reform measures could potentially be the root cause.
"What it is? It's absolutely outrageous," Pelosi stated. "Obviously, it cannot continue. But the fact is that there is an attitude of lawlessness in our country that springs from, I don't know where, maybe you do, and we cannot have that lawlessness become the norm."
Unlike some of her more progressive colleagues, Pelosi did admit that many allegedly smash-and-grab robberies don't stem from desperation.
"But none of it is acceptable. And again, it is, it has to be stopped," she said. "And again, showing that people are not being able to profit from that. This isn't like somebody stealing something to go home because they don't have the money to buy. This is about stealing for profit."
Pelosi's district resides within San Francisco, which has seen an increase of up to 18 percent in larceny theft since the start of the year. In one instance, 80 individuals raided a local Nordstrom of $200,000 worth of merchandise.
San Francisco Mayor London Breed (D) has no longer been able to ignore the effects of the "defund the police" movement. Breed announced her plan to crack down on crime by increasing law enforcement's presence in her city.
"But when a line is crossed, people have to be held accountable for crimes they commit in our city and that's where our police officers have been critically important to our ability to do so," said Breed.
Other major U.S. cities, such as Oakland and Portland, have pushed to refund the police after seeing spikes in crime rates. Meanwhile, Minneapolis residents rejected legislation to replace the city's police department with a department of public health last month.