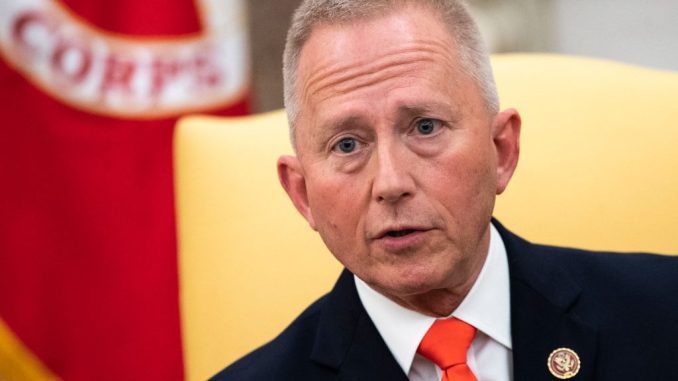 OAN Newsroom
UPDATED 11:30 AM PT – Saturday, November 27, 2021
New Jersey Rep. Jeff Van Drew (R) said he blames Joe Biden and his administration for inflation, referring to Biden's so-called Build Back Better agenda as the "Big Bad Bill."
"This administration is on track to be known as the Grinch who not only stole Christmas, but the Grinch who stole Thanksgiving as well," said Van Drew.
During an interview on Friday, he discussed how the ongoing supply chain crisis is a direct result of terrible policies made by the current administration, which he deemed as the worst in the nation's history.
"This is without question, the Biden tax, it is just one more tax on everybody, it is because of the terrible way he has led this country in so many ways," said the New Jersey Republican.
Van Drew also described the current inflation as the Biden tax, once again stressing how Biden's policies have contributed to the cause.
"I don't even understand half of what's in that bill. It is a complete waste of money, almost all of it, but that's the way Biden's run everything," said Van Drew. "The way he dealt with COVID was a way that caused shortages, it didn't work with the small business people. That has created inflation."
New Jersey Congressman Jeff Van Drew (R) to Neil: What the CBO said, basically, this is going to cost more than the president ever told us pic.twitter.com/PUldKo3yDe

— Neil Cavuto (@TeamCavuto) November 20, 2021
Additionally, he hit back at those who accuse "greedy corporations" of being responsible for inflation, saying everyone is aware of the real cause.
"That's nonsense. It's stupid. We know the reasons. Again, the trillions upon trillions of dollars being spent, some of it was needed in the beginning when we even did it in a bipartisan way. But again, I'll go back to this bill, this Big Bad Bill, you know, Build Back…whatever you want to call it, is a terrible bill," he stated.
The Republican further noted with the administration's constant failures, when future politicians make mistakes, it's going to be called "doing a Biden."